Wedding Flowers Highlight | Zoe & Matt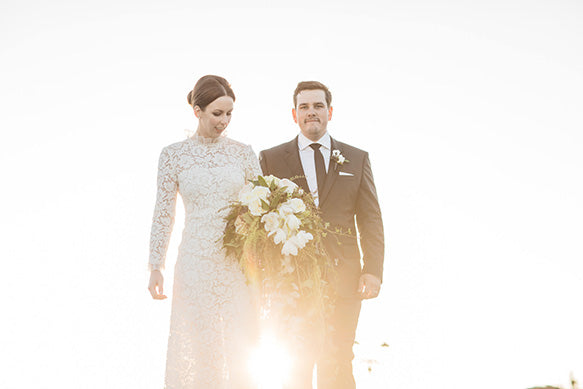 The beautiful couple, Zoe and Matt, celebrated their wedding day at the picturesque Campbell Point House in May, where their guests experienced a highly sophisticated and unforgettable event.
I had the pleasure in meeting with Zoe back in 2013 and instantly connected with her. It was an incredibly rewarding journey turning Zoe's dreams into reality and we will always be grateful for her trust.
The brief Zoe provided was outside of the norm, and whenever we caught up we would have lengthy creative chats to ensure we were on the same page. They say the journey is half the fun and I loved meeting with Zoe over the course of her planning.
Zoe's Bridal Bouquet was not your average style of bouquet. The bouquet was bespoke and extravagant! And it had to be as Zoe wore the most incredible Valentino lace gown sourced from Le Louvre.
The bouquet had to make a statement while complimenting the bride, the gown and colour palette perfectly. Zoe's bouquet was created with about six different seasonal foliage's, green hanging Amaranthus, pure white Cymbidium Orchids, fragrant ivory Garden Roses and Hydrangeas.
Presenting Zoe with her bouquet was a very emotional moment for me. I was shaking with excitement as I walked towards her. We both then started crying until we burst into fits of laughter and finished with lots of hugs. So much trust is placed in us to make things perfect for our brides and it's impossible not to get caught up in all of the emotion.
Campbell Point House is such an incredible venue and you'd be hard pressed not to have your breath taken away when entering the estate, even when it is void of decoration. However, once decorated, you enter another world.
The blooms for Campbell point house were selected to compliment the bridal bouquets and there was not a empty space in the venue. Masses of lush green foliages and blooms cascaded over the mantel pieces and the tables were filled with dense classic glass urns displaying hydrangea. We also ensured the bride and groom and guests could not see what we were up during the installation as to ensure that everyone was completely surprised by every floral detail throughout the venue.
Both a wedding and clients I will truly cherish forever….
x Kate
"Your work on the day (and in the months and months leading up to the wedding) was incredible and I will forever thank you for the hard work you put into our wedding.
The comments we received from guests and suppliers about the florals is a testament to you and the extraordinary business you have created.
I could talk all day about how beautiful everything was. I still cannot believe the bouquet you presented me with. And my sister. Mia still talks today about what masterpieces they are.
We feel so privileged that you created them for us. I feel so fortunate that you have been my florist, Kate. It has been a pleasure and I look forward to keeping in touch and purchasing my flowers from you in the future.   
Kindest regards and most sincere thanks, Zoe"