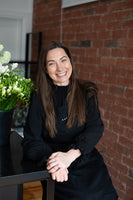 Kate Hill is one of Australia's most recognised floral designers. The preferred supplier to many of Australia's luxury boutiques, five-star hotels and a who's who list of Australian celebrities and business elite, her innovative floral designs and styling have made Kate Hill Flowers a nationally renowned brand name.
Kate's no-compromise approach is the foundation of the Kate Hill Flowers' reputation. From product quality to design innovation to customer service, her business is modelled after leading design houses and luxury boutiques, rather than the traditions typical of her industry. 
Over the last two decades, Kate has provided her custom designs for countless weddings, corporate events and other special occasions to the delight of even the most discriminating individuals. 
Kate maintains close relationships with Australia's leading growers and suppliers to ensure 100% satisfaction from her hundreds of discerning clients—from large-scale commercial projects to private clientele. Today, the Kate Hill brand stands for the ultimate indulgence in floral gifting and the beautification of life's most special moments.