Wedding Flowers Highlight | Justina & Wes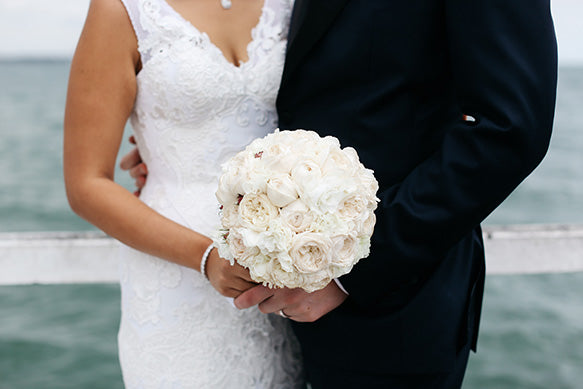 Wow, have we got a very special wedding to share with you!
Over the Easter long weekend we designed an unforgettable wedding for Justina & Wes. Their chic and contemporary wedding was celebrated in pure style on at the stunning 'Luminare', which we transformed into a white floral heaven.
The floral brief was inspired by the couple's appreciation for the work of a high profile American designer. Technically this designer's work is not complicated, but in the realm of design, complicated is easy and simple is often more of a challenge. With this in mind, the couple sought us out to deliver a clean, modern aesthetic, which is our specialty and somewhat of a rarity in Australia. With a solid portfolio of this style of work behind us, the couple always knew they were in the right hands hands.
The designs featured masses (by that I mean thousands of bunches and boxes) of white flowers sourced locally and flown in from overseas especially for this event.
We sourced over a thousand white Phalaenopsis Orchid stems, 500 bunches of white and green Hydrangeas, over 500 bunches of fragrant white Roses, 1500 bunches of white Mokara Orchids and endless buckets of David Austin garden roses.
From the moment I first met with Justina & Wes, I knew we had chemistry and they would have a stunning wedding. We thank Justina & Wes for trusting us and having the confidence to give us creative freedom to design and deliver a truly unforgettable event.
x Kate
Photographer | Ben Swinnerton
Gown | J'Aton
Reception Venue | Luminare