Birthday Flowers Bouquets & Gifts
Send Birthday Flowers
Nothing beats a big day with a big celebration when spent it with someone special or a loved one. Yes! Birthdays are probably the most celebrated occasions out of any calendar year. It is a celebration of life and love.
What makes it more exciting is the part where you enjoy the fun party hats, or the sugar-coated cakes and of course, the gifts.
Traditionally, gift-giving has always been a big part of birthdays. Gifts are one of the best ways of expressing our emotions. It may come in different sizes but at the end of the day what we all want is something that is more than wrapping it in a beautiful box.
It is something that would leave a wondrous mark on the recipient, and what better way to make it special by sending a batch of beautiful and fresh blooms.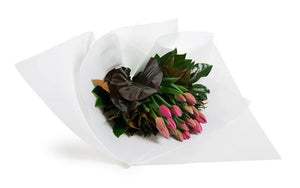 All About Kate Hill Flowers
Our vibrant birthday flowers are crafted with elegance and charm. Grown in the heart of Australia, we take pride in every element of our product, as it is with the highest quality and style by our most talented florist.
At Kate Hill Flowers, our arrangements feature some of the most breath-taking pieces such as orchids, white lilies, roses, tulips and more!
Feeling uncertain on which birthday flowers to give? At Kate Hill Flowers, we go above and beyond to make it special for your recipient; we've got you covered with those little extras that make all the difference including our luxury candles and premium champagnes, and can top it all off with our one of a kind gift cards.

Kate Hill Flowers maintains close relationships with Australia's best growers and suppliers to ensure 100% satisfaction from our hundreds of loyal clients. We value most their satisfaction and so with our same day delivery options, we deliver your birthday flowers across Melbourne for orders by 1 PM.
Subscribe To Us At Kate Hill Flowers
Today, the Kate Hill Flowers brand stands for the highest indulgence in floral gifting and beautification of life's most special moments. Browse through our collection of birthday flowers and get the latest promotions and offers when you subscribe to us.
Shop with us at Kate Hill Flowers because we have the best birthday flowers designed by the best florists.