Wedding Flowers Highlight | Stefanie & Chris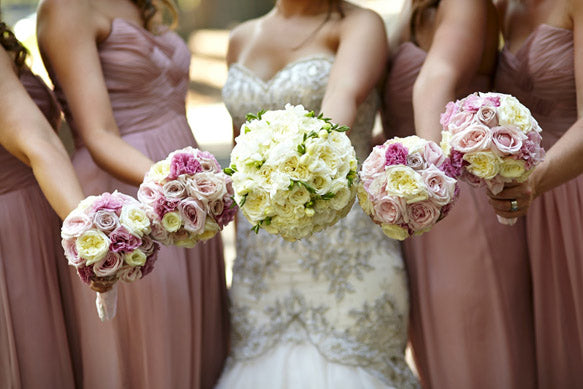 When I received Stefanie and Chris' thank you email last week, I cried with joy. Reading stories and reliving our clients perfect wedding day means the world to all of us here at Kate Hill Flowers, especially when we invest so much emotion into each and very wedding we do.
Chris and Stefanie's wedding was celebrated on Saturday 8th February, an extremely hot Summer's day in Melbourne! Looking at their photos you would not have know it was 35 plus degrees that day.
This very elegant couple opted for a classic, romantic and sophisticated style of wedding which we did our best to enhance with the flowers. We created the bridesmaid's bouquets in mixed, soft pastel pink toned roses and lisianthus blooms to compliment their elegant, full length gowns.
Stefanie's bouquet complimented her beautiful Baccini and Hill gown perfectly, featuring colour matched roses, lisianthus blooms and freesias in white ivory tones. The boys loved our sophisticated buttonholes which were custom designed to reflect their bridal partners. As it was such a hot day, we also designed spare buttonholes for the reception. This is always a great idea in the hotter weather.
As guests enter the ballroom at The Langham they were blown away by the chic white setting which included dense floral displays featuring ivory white fragrant roses, domes of white hydrangeas and white freesias, which were all inspired by the bride's bouquet. I recommended styling the venue differently to the bridal flower colour palette so the guests were completely surprised by the venue setting.
February can be a tricky month for sourcing premium, 'wedding grade' flowers due to Valentine's Day, but we sourced the very freshest locally grown flowers ranging from a variety of roses, lisianthus, freesias and hydrangeas from our trusted premium growers.  We are very lucky to have great relationships with all of our suppliers, and the buying power and product knowledge to ensure (and guarantee) our clients celebrate their wedding day with nothing less than the most perfect wedding flowers.
I hope you enjoy their wedding photos and are inspired by their timeless style.
x Kate
Wedding Dress | Designed by Libbi Capel @ Baccini & Hill Suits
Bridal Jewellery | Jeanette Maree Jewellery
Wedding Rings | Steven Milonas @ Anton Jewellery
Photography | Blumenthal