Wedding Flowers Highlight | Alexandra & Patrice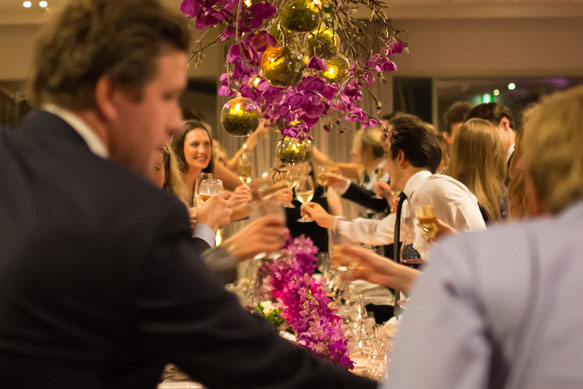 The moment I met Alexandra and Patrice I instantly fell in love with both of them and by the end of our meeting I was so excited about their wedding.
We almost spoke more about food, travel, and what they loved in life than colour palettes and flowers. Our conversations really inspired me when creating their floral concept and I felt extremely blessed that Alex and Patrice had given me absolute creative freedom with the floral and styling of their wedding, causing me to spend endless hours researching all things French, food (in particular cheese), texture and seasonal flowers.
For the big day we designed bridal bouquets with seasonal textural foliages, pops of pink and magenta blooms, and fragrant roses. The couple's favourite flowers featured throughout the bridal bouquets and the reception.
We styled Harbour Room with an abundance of texture including from buddy magnolia branches and floral runners, lush green moss spheres, and foliage garlands protruding from unexpected florals. Everywhere guests looked there was surprise, an interesting styling detail and an abundance of fresh seasonal florals.
The wedding cake was styled with layers of fresh Mokara orchid blooms and was surrounded by a seasonal flower and foliage installation which also included buddy magnolia branches and mini wooden logs, all of which our creative team styled on the day with meticulous care of each and every element. Not only was the cake table a focal feature but we also styled a cheese 'fromage' station which tied in with the table settings, hanging installation and cake table installation.
A highlight was the 3m long custom designed hanging installation positioned centrally above the bride and groom. The magnolia branch structure displayed masses of hanging fuchsia phalaenopsis orchid plants, moss spheres, foliage garlands and warm candlelight suspended above the central table. I am told that guests were overwhelmed by the room as it was revealed and were captivated as the night set in and the lighting deepened the mood created by the installation.
Some kind words from Alexandra;
"The Harbour Room looked amazing & the bridal flowers were just gorgeous!!! Thank you again for creating a perfect setting for our wedding. You did an amazing job and we really appreciate all the hard work, creativity and extra mile you went to create our perfect wedding day."
Thank you Alexandra and Patrice for being dream clients to work with. We had so much (maybe too much?) fun installing and styling your wedding!
x Kate
Venue - Harbour Room
Photographer - Kiss My Lens