Best Selling White Winter Flowers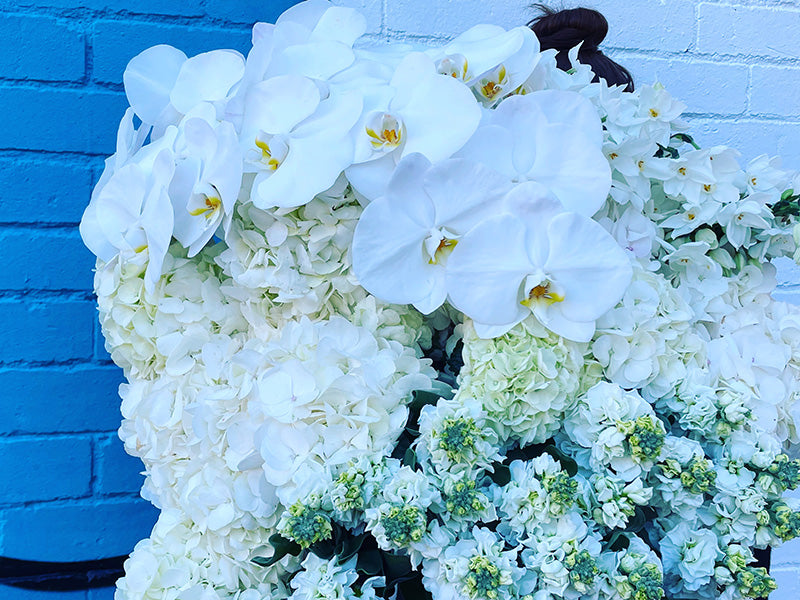 Winter is a beautiful time of year for white flowers and I would love to share with you, our best-selling winter white flowers. 
If you love filling your home with white flowers or love gifting loved ones with white flowers (like I do!), then you will enjoy reading this blog about our best selling white winter flowers.
Our top 5 winter white flowers include:
Erlicheer 
A tiny ivory cream flower packed with fragrance. Erlicheer is a beautiful flower to display on mass.
Hellebore 
Hellebore is a textural flowering foliage which looks beautiful on mass or mixed with other winter flowers. It is a petite bloom with no fragrance. Check out our ELLA Flower Posy which features a mix of white winter blooms.
Classic Roses
Locally grown Classic Roses have no fragrance and last 5-14 days depending on care. Their tight bud turns into a large full layered open bloom. Our BLANCA Flower Bouquet is full of classic roses.
Double, Frilly and Single Tulip


Tulips are an intriguing flower which grows over time in height and bloom after cutting. Our locally grown and premium quality Tulips will last 5-14 days depending on care. Check out LEXI, FRANKIE, GRACE or MOLLY Flower Bouquets. Available in White, Peach and Pale Pink tones.
Freesias


A petite and fragrant bloom is perfect for any occasion. We love filling our homes with our White CLAIRE Flower Bouquet. 
Winter flowers tend to be heavily scented so if you love filling your home with fragrance then you will love Daphne, Freesias, Stock, Erlicheer and Sweet-pea.
If you do not like heavily scented flowers in your home, I recommend classic roses, Hellebore, Rhododendron and Tulips. Winter is the perfect time of year to enjoy all the different varieties of tulips.
In winter you will see we source single (single petal), Frilly (frilly edge on their petals) and double (multi layers of petals) Tulips. White Double and Frilly Tulips are a beautiful winter flower to watch as they open into a full bloom. In winter, Tulips will last between 7-14 days depending on how you care for them. Our white FRANKIE Bouquet pictured here is very popular.
If you are displaying Freesias, Stock, Hellebore, Ranunculus, Snapdragons and Sweetpea you will need to refresh the vase water every second day, especially stock.
Stock flowers are heavily scented and the vase water turns quickly so you must refresh their vase water more frequently. If you do not refresh the stock vase water, the water turns putrid ! Thoroughly clean the vase with beach after the flowers have passed to ensure bacteria has not formed. If the vase glass looks opaque and not clear, we highly recommend you clean the vase until its clear again. This is a clear sign the vase is dirty and bacteria has formed.
These delicate winter flowers are not long lasting flowers and will only last 5-10 days at most. So it is vital you refresh the vase water every second day. And fill the vase with cold water not warm water.
Do you have a favourite winter white flower? I would love to hear from you.
Please visit our online store to organise flower delivery across Melbourne this Winter.