Tips for buying and caring for Roses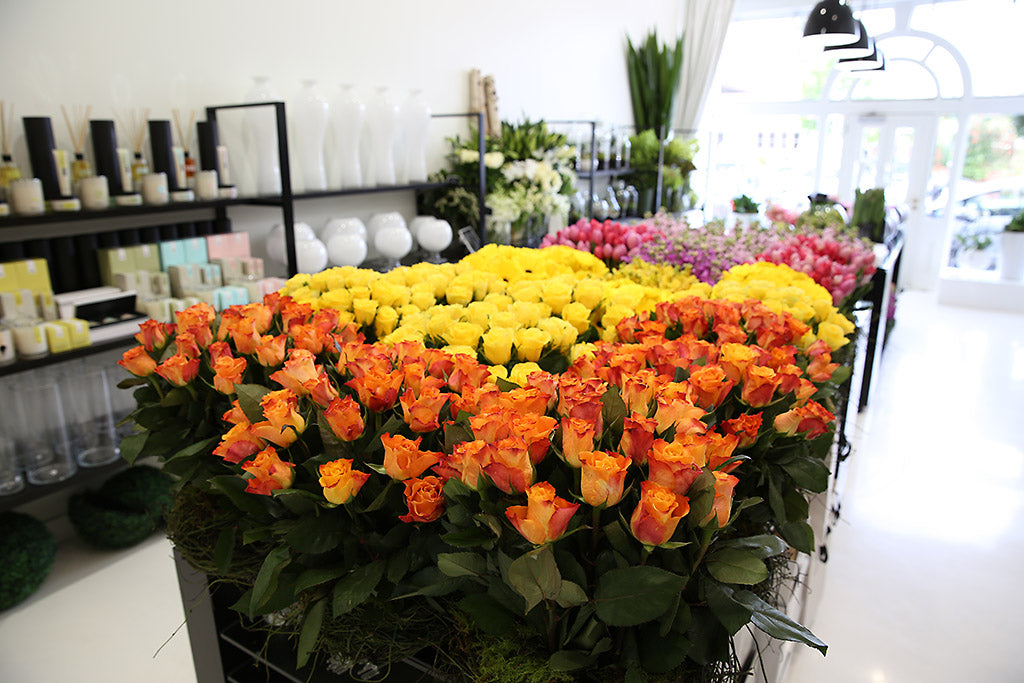 When I ask which flower variety best says, "I love you", chances are that roses come straight to mind. Roses are a beautiful way to tell someone that you care, and they're the most beloved flower in the world. Knowing how to buy and care for roses can help you express your deepest emotions to a loved one or beautify your home while getting the most out of your investment. Here's everything you need to know!
How to buy roses
Determine what type of roses call to you

. This won't be the same for everyone. Some people love the classic red rose and others prefer a fragrant garden variety.. Roses mean something a little bit different to everyone, so be sure to select what is optimal for you. Get to know what the various colours mean as well. For example, red means love, pink can mean admiration, white is for purity and perfect for weddings or even funerals, and yellow if for friendship. Select what you love and go for it!

Find the perfect bouquet

. Your perfect bouquet is fresh and free from any browned edges. Pick up several bouquets from the selection you're presented with and inspect them. If the roses appear to be older with browned edges, chances are they're going to have a shorter life when you take them home. Avoid this and go for the freshest looking cut.

Pay attention to the petals.

When selecting your perfect bouquet, look carefully at the petals. You never want to choose roses that have the petals tightly wrapped or these roses may never fully open. On the other hand, roses that are too open may not last as long as you would like. A rose that is fully blossomed is at its peak, so purchasing right before this moment is ideal.

Talk it out.

Talking to the florist can often help you leave with the perfect bouquet of roses. Chat them up and ask when they received their shipment. Knowing how old the roses are can help you determine if it's worth your money. If they're already old, chances are that they won't live as long as you'd like. If they're fresh that morning, you're looking at having a good bouquet for a long time - 5 to 10 days or more.
How to care for roses
Don't delay.

Roses don't keep forever, so you want to make sure they're in transit for the least amount of time possible. While you transport them, keep them in a cool and dry container (if possible).

Time to trim.

Before you place your roses into water, you need to trim the stems and leaves. Use garden shears or a kitchen knife to cut off the bottom ½ inch of the rose at an angle. You'll also want to snip any leaves off that will fall below the lip of the vase. Anything that might fall into the water should be taken off. The only parts of your roses that should be inside the vase are the rose stems themselves.

Place in a vase with cold water.

This is the part that most everyone knows how to do. Get a vase that fits the size of your roses and fill it with cold water. For best results, change your water every other day to keep it fresh.

Find a great spot for your roses.

Placing your vase in the correct spot is crucial to ensuring that they last. Roses wilt and die if they're exposed to heat, so keeping them out of direct sunlight and away from heating vents will assist with longevity.
 Final thoughts
There you have it! Flowers are a beautiful investment to make for any home or décor, but you want to make sure that they last. Whether you've struggled in the past to pick out the perfect bouquet from the store or your bouquet never quite lasted when you got it home, you now know all the tips and tricks to purchase and care for the most popular flower in the world. Don't hesitate to buy the bouquet you love next time you're at the florist – you've got this!
Below are a couple of beautiful examples from our talented Kate Hill florists that are sure to delight even the fussiest of rose aficionados!