Five easy steps to making a beautiful, fresh Christmas wreath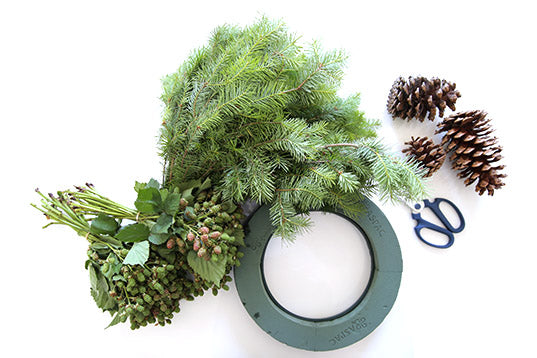 It's that time of year when we all get into the Christmas spirit and do a little bit of festive decorating. While beautifully dressed trees are a mainstay at Christmas, welcomingly decorated front doors tend to be a bit more hit and miss.
Fear that front door no longer, as we have created five easy steps to help you create a beautiful Christmas wreath for your home. Keep in mind that you can also use these for table centres on Christmas day. They look even better with a candle placed in the middle.
Source all the appropriate products for the wreath including a 40cm Oasis Wreath Base (with a plastic base), Florist Snips (or good scissors if you don't have snips), Christmas Foliage and Flower. You will need approximately 5 Bunches of Christmas Foliage (Spruce, Cypress, Oak, Olive or Eucalyptus Foliage) & Bunches of Berry Foliage to recreate the wreath pictured.

Prepare your work area. Creating a wreath at home can be messy so prepare your work area (kitchen bench, laundry or table) with a large towel so you can lay the wet floral foam wreath down while ensuring your work area stays dry. You'll also need a rubbish bin or garbage bag for the off cuts and gloves if you find the foliage too harsh on your hands.

Prepare the Wreath. Fill a clean, wide sink or bath with approximately 3-4 inches of fresh cold water. Place the dry Wreath Base upside down (floral foam facing the water) evenly, let it submerge under the water, sink naturally and leave the oasis to soak for a few minutes. Do not push the dry base into the water, as this will create dry air pockets, which will cause issues when designing the wreath.

Prepare the Foliage/Flower. Take the Foliage (Spruce, Cypress, Oak, Olive or Eucalyptus Foliage) out of water or wrapping, snip the bunch tie and pull each stem of foliage apart. Examine the Foliage and remove any flawed leaves. Cut the Foliage into 7-10cm lengths (try to cut sections where the foliage is full) and clean the bottoms of the stems (where the foliage will enter the floral foam base).

Design the Wreath. Now its time to get creative and complete your custom wreath for the table. Place each stem (or cluster of foliage) on an angle and each stem all facing the same direction. Keep turning the wreath as you add the foliage stems to ensure the wreath looks balanced and the foliage is even (unless you are wanting an organic look). Continue to fill in the gaps until the wreath is full of foliage. Once you have used all of the foliage start adding the berries (or Flowers) to finish the design.
Below is some inspiration! Happy wreath making!
x Kate