Choosing the Perfect Bridal Bouquet for Your Wedding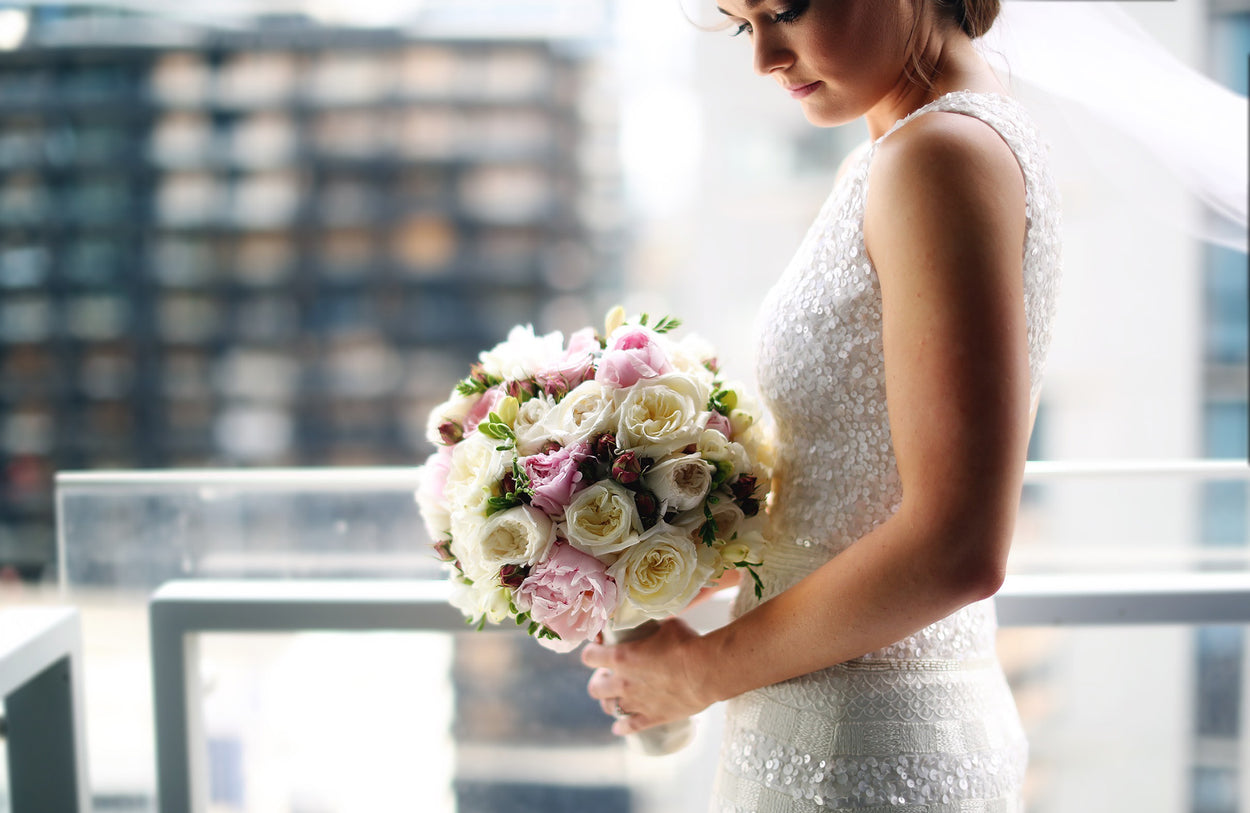 Are you currently planning your wedding and stuck on choosing the perfect bridal bouquet to carry on the big day? Don't stress! I am here to guide you through the process and give you some helpful advice.
Did you know that your bridal bouquet is the most important flower arrangement on your wedding day? If you're in a pinch, you can get away with not having venue flowers, church flowers or ceremony flowers, but you absolutely must carry a bridal bouquet! It is an extremely important fixture in your ceremony, and you should love it just as much as your wedding gown.
Why must you carry a bridal bouquet? The ancient tradition dates back to the Roman Empire and symbolises new beginnings, fidelity and hope of fertility. In ancient times, brides would carry an extremely fragrant bridal bouquet to ward off evil spirits, illness, and bad luck and to serve as perfume. As a bride, it would be strange to wear a traditional white or ivory gown and not carry a bridal bouquet as you walk down the aisle. Another important reason to carry a bouquet is to give you hands something to do while you nervously walk down the aisle!
Spending hours searching for the perfect bridal bouquet can be overwhelming, especially if you have many friends and family members participating in the ceremony. You definitely don't want to carry a similar bridal bouquet to your best friend, cousin or sister-in-law. Your wedding day is your dream day, not your friends' or family members'. So, here is some helpful advice for choosing the perfect bridal bouquet for your wedding day:
Determine your favourite flowers or colours. If you love whites or greens, feature these neutral colours in your bridal bouquet. If you prefer vibrant colours, go all in on featuring colourful flowers. Flowers are a really simple and effective way to feature colour without your entire wedding looking like a rainbow! I recommend featuring two or three colours plus textural foliage so it doesn't look like a disco party. Choosing flowers you love will reflect your personality and style, and most importantly, it will make your wedding day authentic.
Next, figure out which flowers or colours you don't like. If you don't like native flowers or native foliage, write that down on a notepad. If you have allergies and your wedding is in the spring, you won't want to choose any fragrant or pollinated flowers such as lilies (which we never feature in weddings). It's really important to pass these notes onto your wedding florist. If you haven't communicated what you don't like, you might be unhappy with or allergic to a flower or foliage on your wedding day.
After making your flower or colour selection, research styles and shapes of bridal bouquets to decide what you love and would prefer to carry. A couple of popular bridal bouquets at the moment include masses of long-stemmed reflexed roses or masses of cascading phalaenopsis orchid stems. One flower on mass is timeless! You can keep it very traditional with a dome of one flower on mass (like this white freesia bouquet) or a dome of white and green seasonal flowers (like this white sweet-pea, white double ranunculus, white freesias and garden roses). 
It's also important to consider your gown when choosing a bridal bouquet. Your bridal bouquet must compliment your gown in terms of style, shape, size, colour and flower. You can ask your couture designer for their input, but continue to follow your heart. The colour of your bridal bouquet must complement and not clash with your gown. Always talk through your gown with your chosen florist and listen to their opinion as well. An experienced florist will offer invaluable advice on exactly what bridal bouquet to choose. I always consider the gown designer when I make suggestions for brides-to-be, and I know the right bouquet style to choose as soon as I know the gown designer!
Research what flowers are in season during your wedding and what you love most about that season. If your wedding is in November, you might love the look, feel and colours of peony roses. Peonies also work well for autumn weddings because of their texture and warm tones. Understanding the season you are getting married in means taking full advantage of the flowers and foliage that are in season, which makes your bouquet far more cost-effective as well. If you have your heart set on a particular flower, find out when it's in season and book your wedding around that time. Otherwise, prepare yourself to fall in love with plan B.
Use social media and Pinterest to help create a visual idea of what you love, but don't overuse it or obsess over it. Limit your mood board of bridal bouquets or wedding flower inspiration to six images each. These six images should have a consistent style or colour. Don't spend endless hours on these platforms, as it will confuse you and eat up your precious planning time.
Some Other Advice:
If you find yourself consistently drawn to the work of a particular supplier, approach them to do your wedding (if they are in the same state as you). They will likely understand your style and create the perfect bridal bouquet for your wedding. Every supplier or florist has their own brand identity, style, flower quality, and expertise, so approaching the supplier you have fallen in love with directly is important. Otherwise, your florist's work might not reflect what you love! 
When you get to the stage of talking with your preferred florist(s), I recommend only meeting with two or three suppliers. Meeting with more florists than that is a complete waste of time for both you and the suppliers. Do your research and create a shortlist of your three favourite florists. If all three florists come back with quotes that don't fall within your budget, contact them immediately and have a chat. Most of the time, florists are able to work something out, unless your budget is completely unrealistic for the brief. If you have met with a florist and they have provided you with a detailed quote, do the decent thing and email or call them right away to have a follow up chat. It's unprofessional for a bride to not reply to a florist, so give them the courtesy of letting them know whether or not you wish to proceed with the booking. Never ghost a supplier; if you want to be treated professionally, act professionally yourself.
Image: Enchanted Wedding Photography
Only approach florists or suppliers who are experienced in flowers, wedding flowers and the wedding industry. Choosing a florist who is new to the industry is dangerous and may result in disaster on your wedding day! You only want to choose a renowned wedding florist who has been doing weddings for 20+ years. You can afford to make a mistake for a gift or a birthday event, but your dream day requires the very best supplier, not some new online florist wanting to cut into weddings and events. The same goes for stylists. Experienced and renowned stylists are professionals who style table dressings and settings and manage suppliers. Stylists are not florists and should not touch the design of wedding flowers. This will end in a disaster and ruin your dream day.
Always remember that your wedding is YOUR day, no one else's! You can consider loved ones' opinions, especially if they are helping financially, but the opinions of friends, cousins, and work mates are irrelevant. 
If you have any questions or concerns about choosing the perfect bridal bouquet, please reach out anytime via our Wedding Flowers Contact Page if you would love to book a complimentary phone consultation to discuss your Wedding Flowers in Melbourne or Brisbane.
Kate x