Buy Local Australian Grown Flowers & Support Local Australian Businesses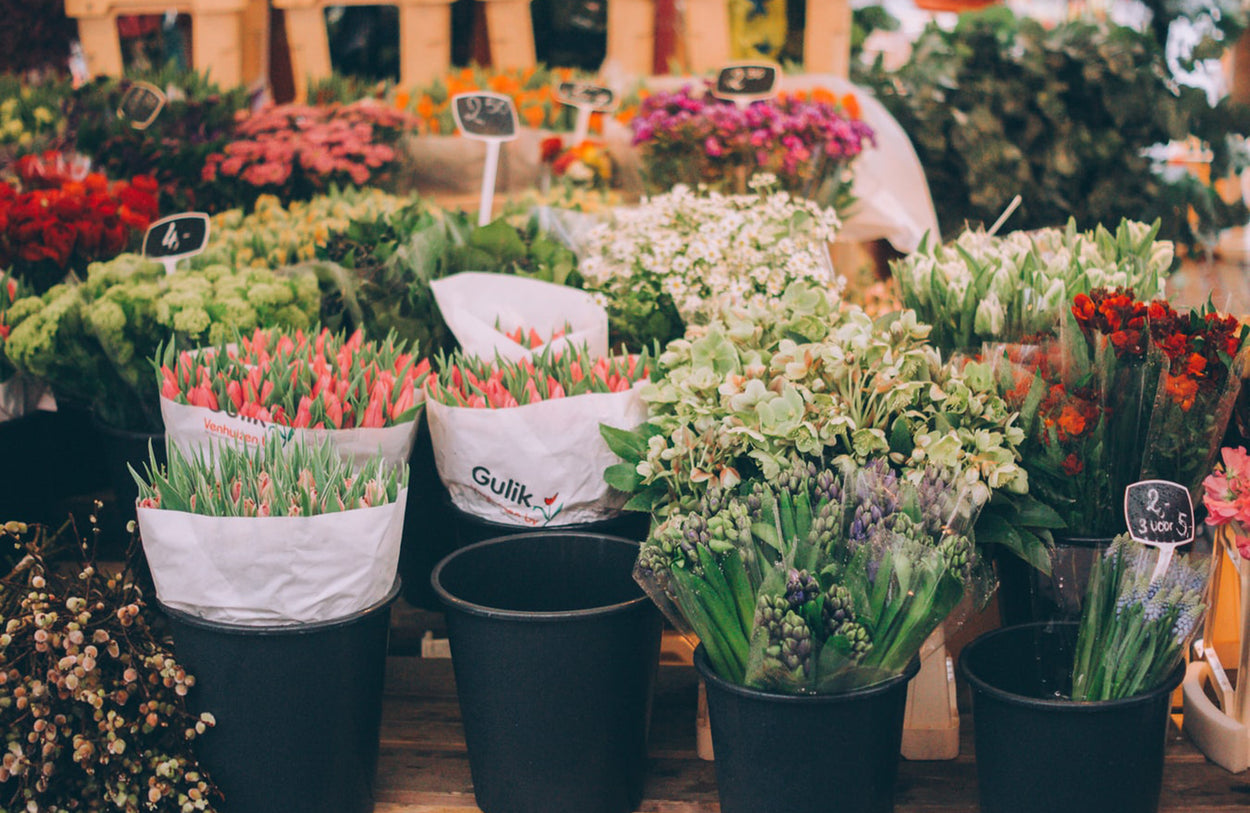 Now more than ever before, we need to support local Australian businesses and buy locally grown flowers rather than imported flowers (including the toxic preserved/dyed flowers that often come from abroad).
Our growers have been struggling through decades of drought, and more recently through the bushfires, but the COVID-19 pandemic delivered a harsher blow to many growers than they ever could have forecasted. With mass cancellations of weddings and other large-scale events, many florists have been forced to close their doors, and our Victorian growers have suffered a major loss of business. 
There are a lot of florists and growers promoting the 'Buy Local' movement, but as a consumer, do you know what types of flowers are grown locally? Unless you actively ask around or the florist provides honest and valuable information in their shop, you probably wouldn't be able to identify which flowers are local, and which are sourced from overseas. Unfortunately, retail flowers are not labelled "Australian Grown" like food, which makes it difficult for the conscious consumer to make responsible purchasing decisions. The solution is simple: If you care about where your flowers come from, ask your florist. The Flower Industry Association is trying to enforce "Australian Made" labels, and we are anxiously waiting to see how the government acts on this positive and informative move, but until then, consumers will have to put in the research themselves. 
Buying fresh flowers from your local florist shop, grocer or fruit and veg store helps support small business and their local suppliers. Picking up a fresh bunch of flowers from your local florist shop is a responsible way to support passionate and clean Australian growers. 
Australian flower growers are some of the nicest and hardest working men and women I have ever met. Their hard work and passion for their profession is inspirational. Most of them are second- or third-generation growers who get their skill, passion and drive from their grandparents. 
Why should you as the customer care about buying locally grown flowers over imported flowers? Buying locally grown products keeps Australians in Australian jobs! And Australian flowers are clean (we don't have any destructive pests/bugs), better quality, grown ethically and last longer. Locally grown flowers have not traveled long distances, and they are therefore better for the environment and leave much less of a carbon footprint. They also have not been quarantined or stored away for weeks, so they aren't sprayed with quarantine chemicals. 
The majority of our flowers, including our hydrangeas, roses, peony roses, tulips, lilies, foliages, and natives, are grown within two hours of our store. The flowers are picked the day before they arrive by Australian workers, placed into buckets of fresh water (not wrapped in loads of plastic), and delivered to our door hours later, without any delays from aeroplanes or quarantine.
Australia produces high-quality flowers in every state, including some of following flower and foliage varieties:
Classic Roses

David Austin Garden Roses

Peony Roses

Lisianthus

Carnations

Queens Anne Lace

Sedum

Hydrangeas

Gladioli

Gerberas

Tulips

Iris

Poppy

Sweet-pea

Freesias

Anemone

Ranunculus

Stock

Lily of the Valley

Cymbidium Orchids

Cattleya Orchids

Banksia

Leucadendron 

Leucospermum

Kangaroo Paw

Blossom

Heliconia

Birds of Paradise

Ginger

Camelia

Viburnum

Laurel

Seasonal Herbs
There are also a few common varieties in some shops that are imported from China and Ecuador. If you want to support your local growers and buy locally, avoid the following flowers: 
Chrysanthemum Disbuds

Preserved Hydrangeas

Dyed Bunny Tails and Palms

Oversized Long Stemmed Roses

Phalaenopsis Orchid Stems
Supporting florists who proactively source locally grown flowers means you are supporting the local economy, buying a better-quality product, and keeping Australians in business. If we didn't support and buy from local growers, they would be forced to close their business within a couple of years, even after growing in Australia for generations. 
I encourage you as the consumer to ask your florist which of their flowers are locally grown, if any at all, just like you would at your local grocery store. It's important to know where the product you are buying comes from, and just like locally grown fruits and vegetables, locally grown flowers can have natural imperfections. This doesn't mean the flowers are old or poor quality; it just means they have been produced naturally by Mother Nature! (Plus, you can easily remove the flawed petals or leaves.)
The current COVID-19 pandemic has reinforced our stance on buying locally grown flowers. Moving forward, we will continue to predominantly source from local growers and enjoy what they cultivate for us each season. We have to adjust to these changing times to ensure our industry bounces back and our growers have the retail support they need and deserve. 
If you have found this blog interesting, check out my article about imported preserved flowers and why you should buy safe fresh flowers over toxic preserved/dyed flowers.
Kate x