The Perfect Time of Year to Buy Hydrangea Flowers to Dry In Melbourne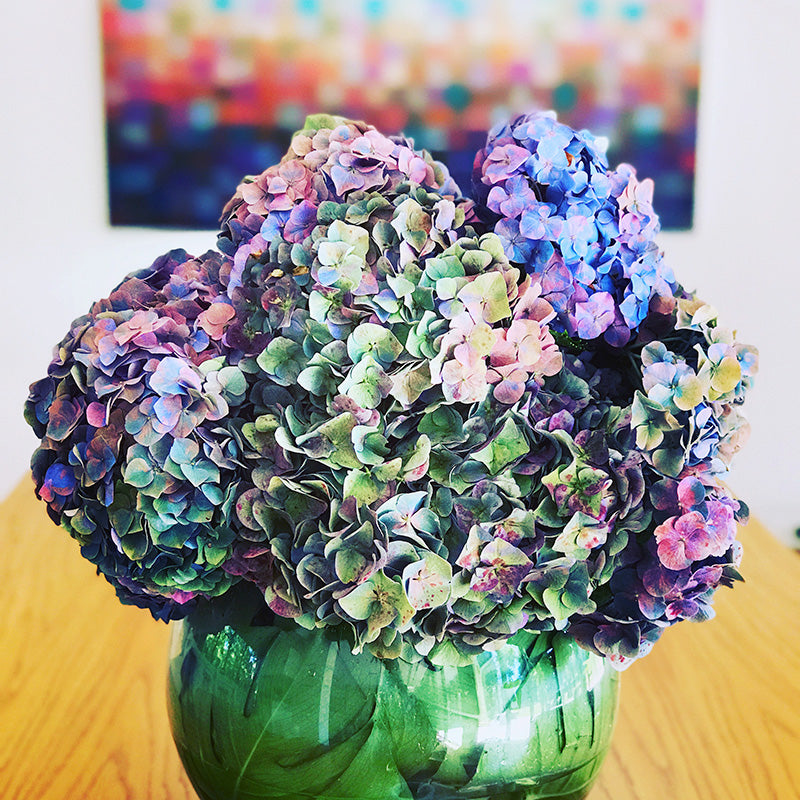 Ever wondered how to dry your hydrangea flowers so you can enjoy them for months to come? In this blog I'll explain some easy steps on how to dry Hydrangea so you can enjoy this beautiful flower long beyond it's fresh lifespan, and the ideal time to be drying them.
Did you know that hydrangea flowers change colour and undergo different stages throughout their season? Hydrangea is seasonal, and its season can vary due to weather, crop, drought and growing conditions.
Autumn hydrangea looks very different than spring or summer hydrangea, and autumn is also the perfect time of year to pop into a Melbourne Florist to buy hydrangea flowers to dry. Autumn hydrangea is available beginning in March, and it varies in colour from green, dark blue, and burgundy to multicoloured. In addition to its unique colouration, another bonus of autumn hydrangea is that it can last for weeks and can be naturally dried. 
As summer begins to disappear in Melbourne, we start to source multi-coloured hydrangea in blue, green and burgundy tones. Some varieties may look unnatural, but they are all naturally and locally grown in Victoria. The hydrangea pictured below would have been blue or purple, but it has been left on the plant for a few weeks, causing the plant to protrude an autumnal green tone through the flower. How beautiful is this multicoloured variety!
The varieties below would have been green hydrangea, but they developed a pink or burgundy tone after being left on the plant for weeks. Growers can also change the colour of hydrangea by changing the soil's pH level.
If you are interested in drying autumn hydrangea, here are a few helpful techniques, tips and tricks for drying hydrangea at home.
We recommend purchasing fresh autumn hydrangea in autumnal blue, green and burgundy tones only. The white, soft pink and blue varieties that feel soft and full of water will not dry easily and will end up drooping and looking sad. Don't waste your time by buying the soft varieties to dry. It's also always best to source your hydrangea from your local florist.
The simplest way to dry hydrangea is by taking the stems (or bunch) out of the water and hanging them upside down in a dry room. It can take up to three weeks for all the moisture to evaporate from the head until it is completely dry. Once completely dry, the head of the hydrangea will remain the same colour.
If you don't have a dry room, you can try displaying the hydrangea stems in a dry vase without any water. While this technique may work when done correctly, hanging hydrangea is always the safest way to dry flowers.
If you are a novice florist who is keen to try the glycerine technique, simply place the stems of fresh flowers in a mixture of two parts lukewarm water to one part glycerine. Leave the stems for at least 2-3 weeks to allow them to absorb the solution. This timeframe is vital, as the stems need ample time to replace their water with glycerine.
If autumnal hydrangea does not appeal to you, buy your hydrangeas from October to March and enjoy the beautifully dense and colourful varieties that spring and summer have to offer.
I hope you have found this blog helpful and have fun with the process!
Kate x