Christmas wreaths for your home and business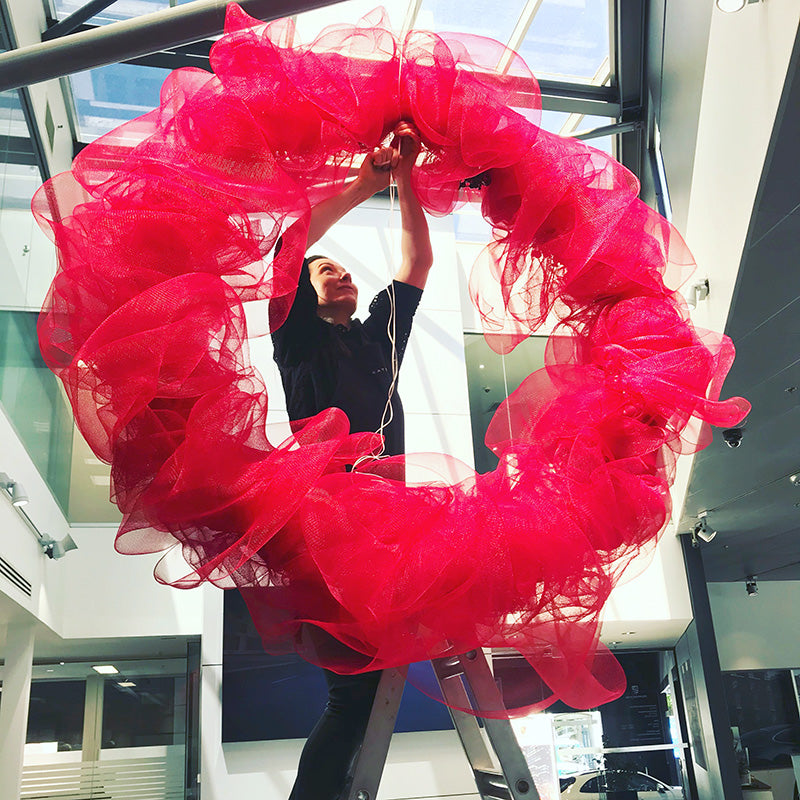 Creating unique Christmas and festive wreaths is something we love to do at Kate Hill Flowers!
We make festive wreaths in many different shapes, sizes, and styles, and from many unique materials, both natural and synthetic. In this short blog I'll give you a rundown of some options that will help set the festive mood of your home or business.
Each year the custom wreaths we create help our customers celebrate the festive holiday season in style. The wreaths are mostly purchased by private customers, but are also hugely popular with businesses and retail brands.
There is not a wreath too small or too big for us to create! Our wreaths can be designed to be positioned on the front door of a home, as a table setting for the holidays, as a custom installation for a business, or a freestanding wreath for anyone to enjoy. What may come as a surprise, is Christmas wreaths are almost as popular as a gift, as they are for a personal purchase.
Our wreath sizes start from a 45cm in diameter, which is the perfect gift for the front door of your home, or as a table setting on Christmas day. The next up size generally increases to a 1.2m frame, which can either be hung or set freestanding in the home or business as a feature installation. Our largest size wreath is set on a 2.4m frame, which is freestanding and is perfect for corporate or retail activation.
Our corporate clients love how wreaths work powerfully to create a festive environment and set the mood for their clients and employees to get excited for the upcoming holidays! Every corporate wreath is created to meet a brief, and will always complement the interior space of where the festive wreath will be located.
We can also design wreaths that last the entire duration of the holiday period. We have loved featuring wreaths with fresh Australian native eucalyptus foliages, Norwegian spruce foliage, pine cones, gum nuts, and cinnamon sticks which all come together to smell just like Christmas! Other materials which look amazing include Australian natural cotton, mesh wrapping, traditional baubles grouped on mass, billy buttons, moss, air plants, and twigs. There are so many interesting materials available to us and we absolutely love getting creative with an 'off the wall' brief.
Our small wreaths, which are perfect for the front door of your home, or as table setting, can be ordered online and we can create these wreaths for same-day delivery or in-store collection. We can also customise the wreath for you if you call our store - just have a chat with our friendly designers who are always ready to help.
For any large custom wreaths which are freestanding or hung, it's a good idea to give us a couple of weeks notice to ensure we have time to plan, source, and construct.
If you are looking for a festive installation for your home or business, we would love to share our creativity with you!
Kate x