Talking about Tulips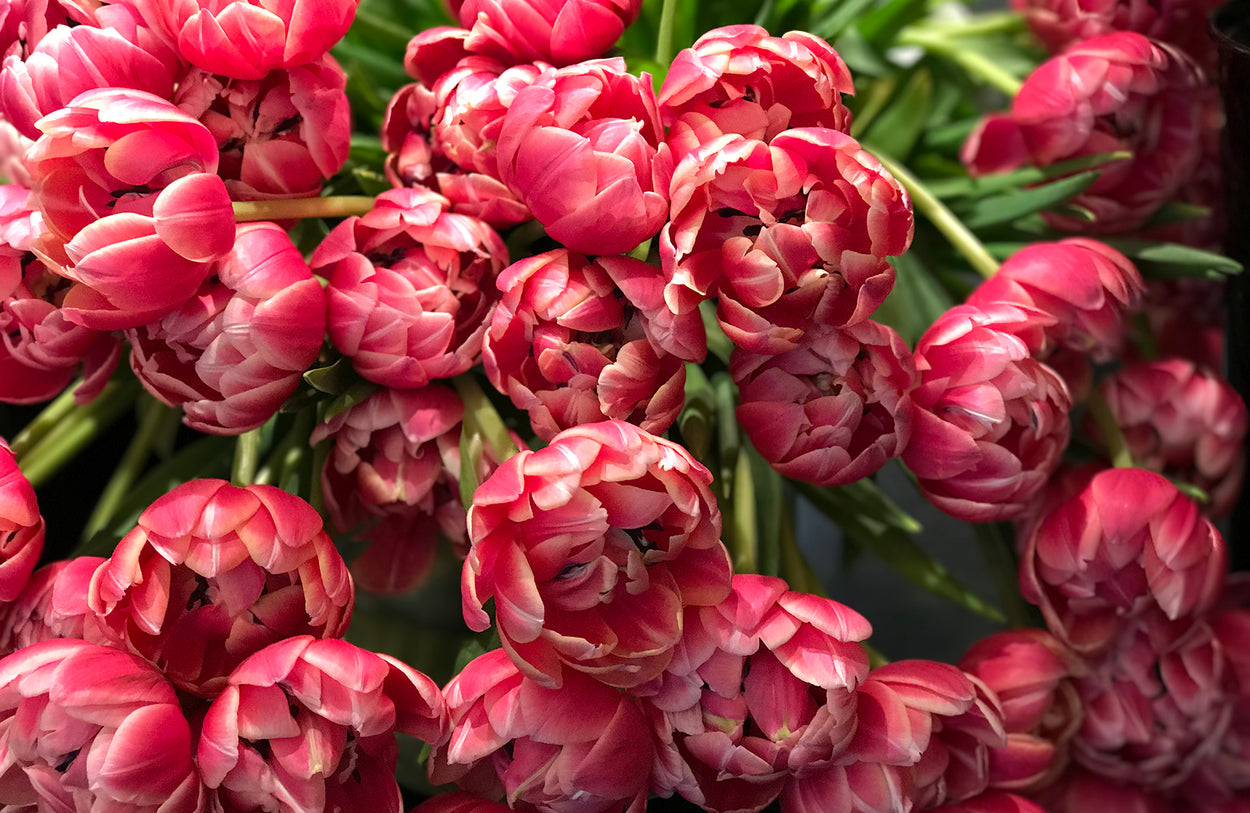 Tulips are one of our favourite flowers and one of the most popular flowers purchased from us for delivery both as a gift, and as a flower to decorate the home.
Tulips are in season from April to October, depending on the season, weather and growers. Some Tulip growers will continue to produce locally grown Tulips from April all the way through to January, which is why you can occasionally buy tulips in Summer.
Cut stems of Tulips are locally grown here in Melbourne, Victoria, and are in season from April until October. They are grown in the 'hills', which generally means the Monbulk and Silvan areas in Victoria where the climate is cool, the soil is rich, and the conditions are perfect for Tulips to grow. Some of the more notorious growers are Tesselaars & TnB and De Boer Tulips in the who are located in the Monbulk area.
Have you ever wondered how Tulips are grown commercially? Tulip growers plant Tulip bulbs into a sandy soil tray inside greenhouses. The bulbs will form a stem over a few months, then flower. When the flower is finally ready to be picked, the tray of bulbs goes through a sorting machine. The sorting machine gently removes the sand and ensures the bulb is attached to the Tulip stem. Whereas with other bulb flowers, the stem gets plucked directly from the soil.
There are so many amazing varieties of Tulips, and if you love Tulips, I would highly recommend visiting the annual Tulip Festival in Spring, which is held in Monbulk, Victoria.
The varieties, colours and fields of Tulips will blow you away! It is such a fun day with the family and it's a wonderful educational day for the kids too. Wearing your gumboots is a must or prepare to ruin your shoes with rich mud!
Some of my favourite Tulip varieties that we source for our customers include Single, Double and Frilly varieties of Tulips. Single varieties are named this way as they only have one layer of petals that form their bloom. Whereas 'Double' Tulips have multiple layers of petals which form their bloom. When 'Double' Tulips open, they look more like a Peony Rose or Garden Rose than a Tulip. 'Frilly' Tulips display a beautiful variegated fringe in the top part of their bloom. There are so many varieties but these are our most popular and sourced commercially.
Tulips can be grown easily in your garden and then freshly picked fresh to enjoy in your home. If you are interested in growing Tulips in your garden, I highly recommend researching and reading this insightful blog. Tulip bulbs can be displayed and grown in pots if you have a very small out door garden (or you rent your home) or can be displayed on mass in large areas.
Tulips are one of my favourite flowers and I absolutely love displaying them in the home. I particularly love Tulips for the home because they are such a simple and easy cut flower to manage, and watching them open over time is an absolute joy. If you would like some helpful tips on styling and care of Tulip flowers, check out How to Style Tulips at Home
Kate x