How to style White Tulip Flowers at Home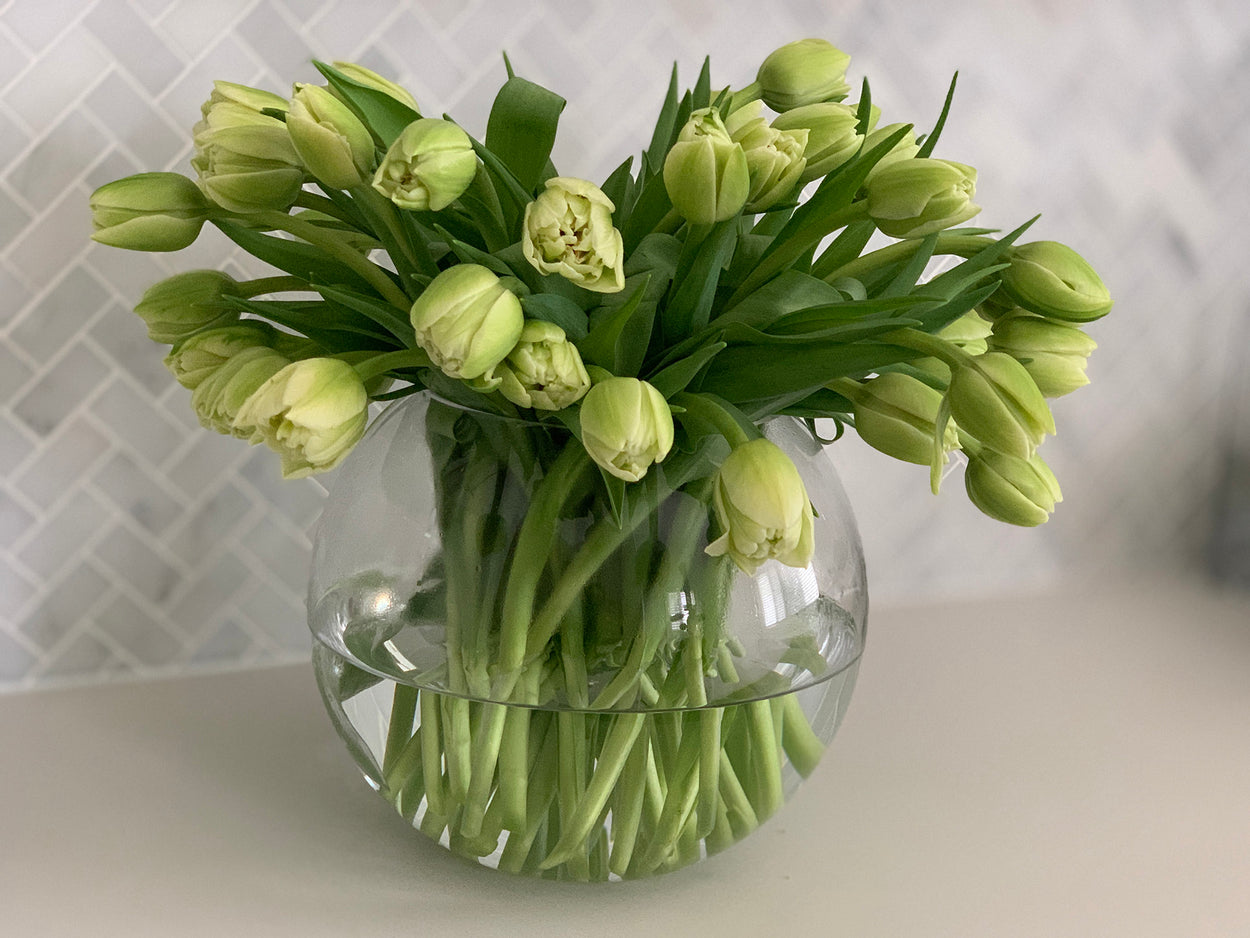 Fresh tulips are beautiful, simple and easy flowers to work with. In this blog, I will be sharing some ideas for how you can style tulips at home, as well as some additional knowledge and helpful tips about this special flower.
Tulips are grown locally in Australia (predominantly in Victoria and Tasmania) in the cooler months. It's always best to source the flowers locally and seasonally, as this will ensure they are fresh and will live longer. Plus, our local growers produce far superior tulips compared to other countries, and the flowers don't have to travel as far. 
We source tulips from March to October from two premium Victorian growers, De Boer Tulips and TnB Tulips. These growers are industry leaders, and if you are a fan of single variety tulips, frilly tulips or double tulips, then you will love the variety we source from them.
To style your tulips at home, you will need the following items:
2 Bunches or 20 Stems of fresh Tulips
How to style tulips at home:
You will want to put in the effort to prepare and care for your tulips from the very beginning, as this will give them a much longer lifespan. Start by preparing the vase and conditioning the tulips. This will help them last for 5 to 12 days. 
To do this, clean your vase with hot water and a tiny hint of bleach. Next, wipe the vase out, and make sure there is no dry scum remaining. Rinse the vase clean with cold water until there is no bleach residue left and the water stops bubbling.
Wipe the vase dry with a towel. I recommend using a white towel when styling flowers at home so the bleach doesn't ruin your coloured towels! Another benefit of using white towels when working with flowers is that you can easily soak them to remove any stains after use.
Once the vase is clean and dry, fill it halfway with fresh cold water. After you have filled the vase with water, wipe it dry and place it on a towel. This will allow you to easily move the vase without scratching it against the counter or making a screeching sound!
Next, remove the plastic sleeves or wrapping from the tulips. You can then remove the lowest leaf from each tulip so the foliage doesn't touch the waterline, but make sure it is only the lowest leaf. You don't want to remove too much of the tulip's natural foliage, as this will make the vase look bare and unnatural. 
Lay the tulips flat on the bench or counter, and neatly arrange their heads in a line. Once all the tulip stems are laying down and all the heads are lined up, trim the ends of their stems in a neat line. This is a really simple trick with tulips (and flowers in general) to ensure all of their stems are the same length, which makes it really easy to create a balanced vase design.
Make sure you cut each stem on a 45-degree angle so they have a large enough surface area to take in water. Keep moments up, and start arranging your tulips immediately so the stem ends do not dry out, or they won't take in water as easily.
When you start displaying your tulips, place the stems deep into the vase, preferably at an angle. Please watch the following video for a quick tutorial on this technique, which we call "spiralling the stems." 
 Keep turning the vase as you add more tulip stems until you have displayed all the flowers. This should take you 5 minutes at most. And voila, you have a really quick and easy flower vase to style at home!
Fresh tulip stems will droop on Day 1, but if you cut the stems, they should stand up straight by Day 2. If you want to take extra precautions to ensure the tulip stems stand straight, prick the top of the tulip's head with a clean pearl pin. This is an old Dutch trick, and it works!
Tulips should last between 5 and 12 days, depending on how you care for them. To maximise their life, replenish them with fresh cold water every two days, and place the vase in a cool room away from direct sunlight and heat.
When they are fresh, most tulips will look quite small and green, and they will not show a lot of their colour. Give them a couple of days, and their beauty, colour and shape will start to come out. They will also grow an inch or so over the next couple of days and potentially grow towards the sunlight. They are truly a beautiful flower, and it is a treat to watch them change over time!
 Kate x