5 Simple Step to Transforming Your Home with Flowers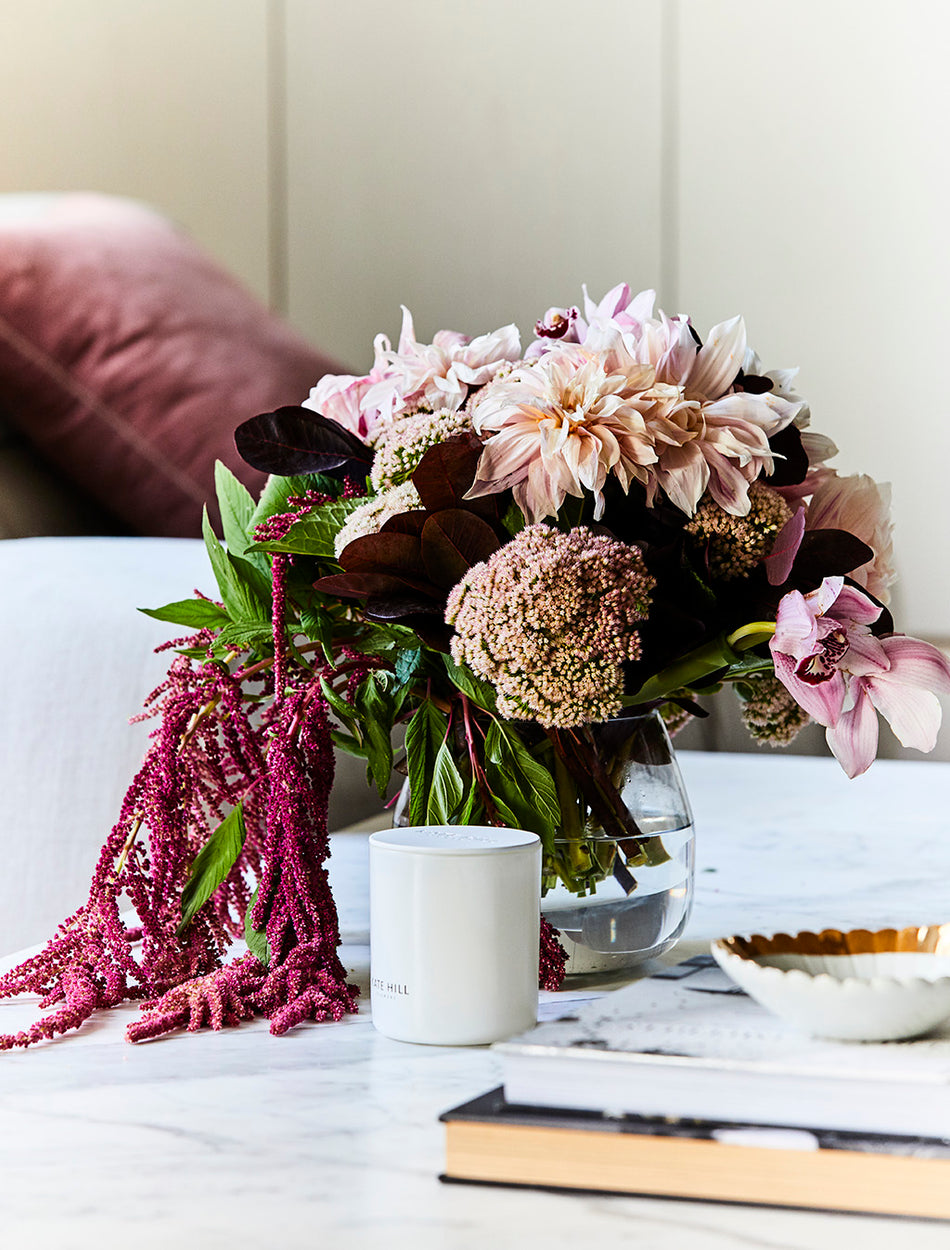 Using flowers and fresh elements strategically in your home is a classic and foolproof way to transform any living space. Kate Hill, Director of Kate Hill Flowers, Melbourne's leading contemporary floral designer, has been helping to transform the homes of Australia's top celebrities and business elite for nearly 20 years. Today she shares her top five tips with us:
Transforming your home through floral design can be as simple as displaying a small bunch of your favourite flower in your home. Nothing is better than creating a statement piece with flowers that you love. Choose flowers that reflect you your personality or fashion sense, or simply just flowers that just bring you joy when you see them. By popping a vase of fresh blooms on your dining or coffee table you will instantly change the feel of your home, lifting the overall atmosphere and everyone's moods at the same time. And don't forget that guest room bedside table. All you need is a little bunch from the garden to make a small posy that says to your guest that they are warmly welcomed.

Don't be afraid to add a pop of a warm colour like rust, gold, yellow or burgundy to your home in Winter to energise your home and nourish the soul. When it is cold and dreary outside, it is a wonderful way to add warmth and colour to your living rooms. Colours have long been known to influence and lift our moods, so add pops of vibrant colour if the room is dull and in need of energy. A small word of warning that is often missed… ensure to keep your pets away from areas you may place your flowers that are within your pets reach as some flowers can be poisonous to animals.

Should you need something longer lasting to fill an area out, fresh cut, lush, green foliages or plants are always a good idea. Keep a room green if the room lacks life and keep it neutral if you have a lot going on in the space. An impressive impact can be made by displaying plants strategically throughout your home. There are many textures found in plants and greenery that can add light and texture. Keep your eye out for Monstera leaves, Ginger Foliage, Philodendron leaves, Anthurium leaves, Gymea leaves and Flax leaf for cost effective greenery with impact.

Add fragrant, fresh herbs to engage the senses and clear any potentially unpleasant smells. Herbs are a wonderful way to add greenery to the home as well as being an essential resource for cooking and entertaining. Plant your herbs in little pots that compliment your individual style. No home should be without some Rosemary growing in the garden and lavender is very handy for that above mentioned bedside table, especially with it's aromatherapy merits around assisting with a restful sleep.

Displaying flowers that are complementary artwork or sentimental props can provide significant impact to any room and also enhance the artwork. Create an understated piece to draw attention to artwork or sentimental pieces throughout your home can be a lot of fun, not to mention a great challenge, and always become a wonderful talking point with new visitors.
Establishing a relationship with your favourite florist enables your florist to really understand your design style, your favourite flowers, preferred colours and ultimately provide you with what you love, what suits your living space and taylor seasonal blooms to lift any interior space. A little known added bonus to this is that when someone sends you flowers, your florist knows exactly what you like and what will work best in your home.
Photos | James Greer
Related Tag: Send Flowers To Melbourne