Delving into Dahlias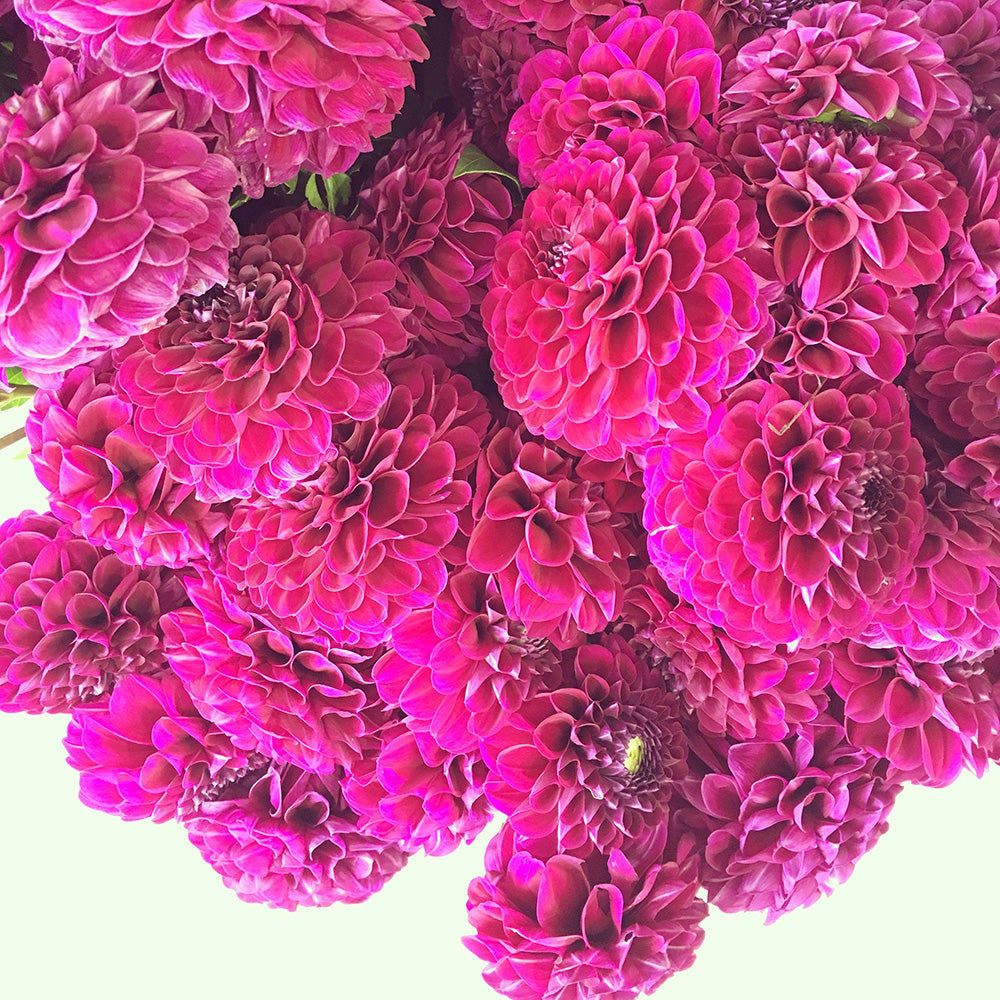 A very beautiful and popular cut flower that is in season right now is the Dahlia. Dahlias are especially cheery cut flowers that always look wonderful en mass.
We source all of our Dahlias from our local growers in Victoria, predominantly from a grower based in the Geelong area. The farm grows acres and acres of field flowers such as Dahlias, Stock, Strawflower, Statice, Ranunculus and Narcissus to name a few. We source flowers from this grower the day prior we require it, it gets picked the day prior and it arrives in our store that morning. Fresh from the farm! These Dahlias have only travelled 2 hours to get to our store before the flowers are used in flower delivery orders across Melbourne, as well as our beautiful Melbourne Events and Weddings.
Dahlias are grown in the warmer seasons from January to May, depending on weather conditions. If it's too hot, the Dahlia will burn. If it's too cold, they will again burn, but from frost. 
Dahlias need a balanced amount of sun and rain as they are grown outdoors in the fields. Hence why florists describe Dahlias as a field flower. Dahlias are grown in outdoor flower farms so they are exposed to every kind of weather. 
One of the main reasons Dahlias are not grown in greenhouses is that they would go mouldy from the moisture and humidity levels in a greenhouse. Dahlias grow fast outdoors, are not labour intensive and are very seasonal. Field flowers rely on the flower farmer to be experienced and understand how to produce the very best crop and to minimise its risks. If crops of Dahlias experience a weather disaster such as extreme heat or frosts, this can come at a huge financial loss to the farmer.
We love Dahlias for their natural beauty, magnificent forms and incredible natural colours. Their blooms are large and delicate so you have to take great care of handling Dahlias. If you are heavy handed or rough with them, the head will explode and the petals will shatter everywhere!
Dahlias need to be enjoyed as soon as they arrive because they have a very short life span of around 3-7 days.
Dahlias may have natural flaws, black marks and damage under petals which are all normal as they are grown outdoors in fields of flowers. There is nothing wrong with the Dahlia if it has a mark, it's just part of its natural makeup. 
There are so many magnificent colours and varieties of Dahlias. At Kate Hill we predominantly source coloured Dahlias in Pink, Burgundy, Magenta, Two Tone Red, Peach and Orange tones. We tend to avoid white Dahlias as they mark so easily and turn very quickly.
One of our favourites has to be the Cafe Latte variety which is a creamy blush latte colour. We love and appreciate its larger size head and unique colour. Cafe Latte Dahlias have become extremely popular for weddings and events in recent years so every florist loves a Cafe Latte Dahlia! Cafe Latte Dahlias are extremely fragile and need to be sourced fresh for events. If they are old, the bloom will mark easily, show bruising marks and potentially their head will bend/break off.
If you love to display fresh cut Dahlias at home, here are some helpful tips to get the most out of the experience:
To ensure you are buying the very freshest Dahlias from your local Florist you can pre-order them so you have them fresh from the farm on the day of collection.
Dahlias only last 3-7 days so it's best not to expect them to last weeks. Dahlias are cheap and cost effective but it's worth keeping that in mind.
Dahlia water naturally becomes brown so don't be alarmed if the vase water instantly or changes and starts to smell. Just refresh the vase water daily with fresh cool water. 
If you notice flawed brown petals on the back of the Dahlia bloom, it's best to remember that this doesn't mean they are old or of bad quality, it is their natural makeup.
Try not to buy or mix Dahlias with other flower varieties in your flower arrangements (especially long lasting flowers) as the Dahlias will die much sooner than the other flower varieties.
Handle Dahlias with extra love and care. Don't be heavy handed with them as they will shatter. Finally, remember to keep them in water at all times.
If you are keen on growing Dahlias in your garden, local community garden or farm, I recommend you follow and read https://www.floretflowers.com/resources/how-to-grow-dahlias/ Floret is a family run flower farm who produces incredible blooms and shares an incredible wealth of knowledge. I also highly recommend you purchase their books as they are truly breathtaking and so insightful.
Dahlias make such a cherished focal point in the home - be sure to enjoy them while they are available!
Kate x