It's time to get creative with your Christmas wreath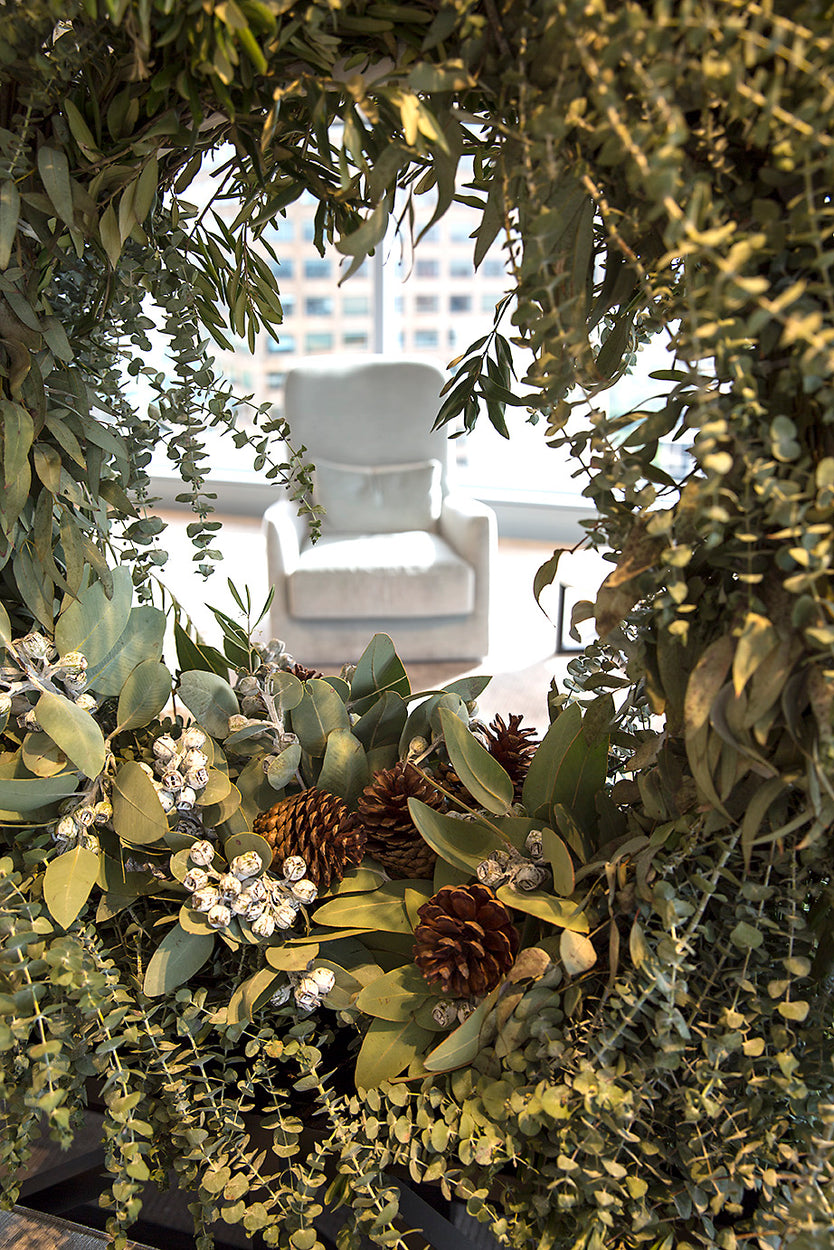 We have just started to get busy decorating beautiful Melbourne homes and businesses with fresh and inspiring Christmas installations. While the specific designs and locations they adorn may vary, the one constant request is a beautiful and unique wreath. And it's easy to see why when Christmas wreaths not only look amazing but smell incredibly festive, always setting the tone for a wonderful Christmas atmosphere.
Over the last few years we have seen a trend whereby many corporate and private clients are opting for more creative, non-traditional, fresh wreath installations for their business or home, or both! And they don't have to be hung solely on the front door. They can be used in many areas of the home or office as a striking talking point.
Some designs have been works in progress for months to ensure they are unique and reflect the client's individual style or brand. We have loved working closely with all of our clients to ensure they are thrilled with the result.
The wreath has a significant meaning for the holiday or festive season. It's circular shape represents eternity, as it has no beginning and or end. From a Christian religious perspective, they represent an unending circle of life. The evergreen, most frequently used in making wreaths, symbolises growth and everlasting life.
Particularly fun, as pictured below, is using native accents as a point of difference with wreaths, particularly if a corporation has an international clientele visiting. In this case we create custom installations with fresh garlands of native foliages such as Eucalyptus, Spinning Gum, Olive and Tetra Nut Gum mixed with traditional festive foliages such as Green Spruce Foliage. Foliages are plaited together and secured onto a custom steel frame. The wreaths are then finished with fresh pine cone clusters. These wreaths will last at least one month and over the following weeks will dry naturally.
We have a range of wreaths available at hand in our retail store and online, or we can create a custom wreath to any size you require.
Our small wreaths can be hung on front doors and also styled on tables. A great tip is to use them on tables. They look absolutely fantastic with a large candle placed in the centre inside a glass votive.
We recommend hanging the wreath with strong, thick satin ribbon, or fishing line if you prefer that look. Any fresh flower wreath that is designed into a foam base will require watering every 2 days to ensure it lasts at least 5-14 days.
We hope our wreaths inspire to pre-order one for your home or inspires you to create a Christmas wreath yourself!
Happy Holidays!
Kate x