Christmas Wreath Installation for Burberry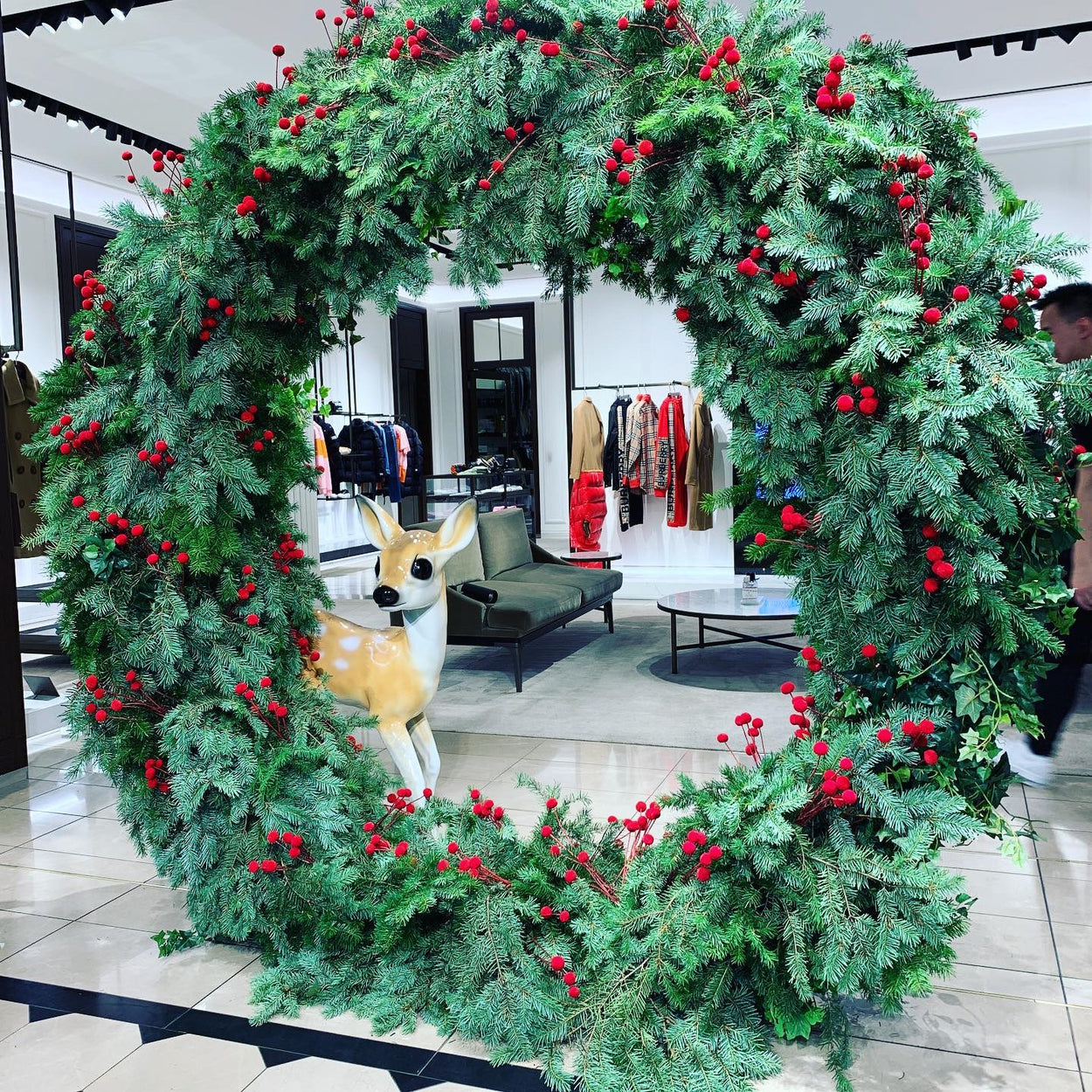 We love the Christmas and holiday festivities that take place at the end of the year. It always brings us so much joy to see our work make so many people happy and smile!
We cherish the opportunity to work with both our private clients, brands and businesses to enhance their space and design custom installations for their events, activations and other special occasions. Anything is possible when it comes to the holiday season, and we're always busy designing custom wreaths for front doors, hanging wreaths of any size, and installing freestanding wreath installations that make a grand impact in any space to bring in the holiday cheer.
In December 2019, we had the absolute honour of designing Burberry Melbourne's custom festive wreath installations for its Collins Street and Chadstone stores. Burberry wanted to communicate a powerful message of festive joy through this decor, as well as deliver a grand sense of style and enable its customers to interact with the installations. When customers entered each store, they became spellbound by the crisp, fresh scent and sheer size of the wreaths. They freely interacted with these grande wreaths and were eager to pose for photos with them. The decorative deer figurines that Burberry placed alongside them further contributed to their intrigue and charm.
Customers were blown away by the wreaths' festive scent, which you could smell from hundreds of metres away, making the stores smell just like the holiday season. The variety of spruce we sourced for the installations is the perfect festive foliage, as it produces an elegant and completely natural Christmas tree scent. And the best part is that it's all locally grown and sourced. 

We constructed the freestanding custom designs using a 2-metre steel wreath frame that was custom made for each store. Each wreath featured over 100 bunches of fresh and fragrant Norway spruce, holly and red belly buttons. We carefully displayed the layers of foliage within the frame to ensure the wreath was lush, proportional and completely safe. 
Planning and sourcing the necessary materials for a wreath of this size took weeks of careful planning and a team of four experienced designers. We designed the wreaths without the use of any oasis products, and we attached water sources throughout the frame structure to ensure they remained fresh for the entire two-week installation period. 

Thank you Burberry Melbourne for the amazing and fun opportunity to work with your creative team!
Kate x