How to style Erlicheer flowers for your home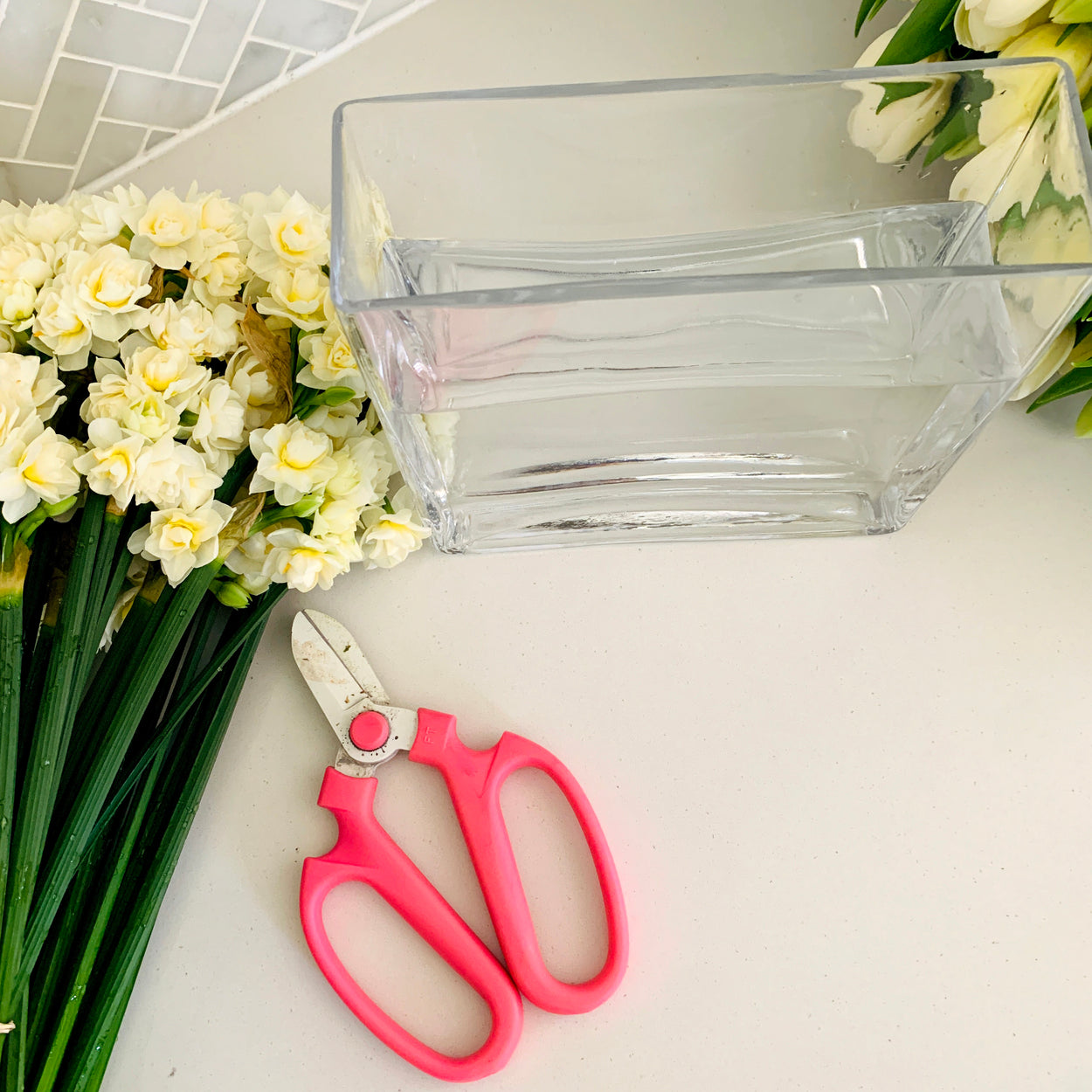 Today I would love to share some tips with you on how to design a really simple but impactful vase arrangement of Erlicheer flowers for your home.
Erlicheer is in season right now and is a really beautiful, simple, and fragrant flower that you can use to lift the feel of your home. I love to display Erlicheer en mass, but they do complement other seasonal flowers as well.
Did you know Erlicheer are directly related to Jonquils, Paperwhites, and Daffodils as they are part of the Narcissus flower family? They are commonly known as Jonquil Erlicheer or Double-Headed Daffodil. 
Erlicheer is cream in colour and has tiny clusters of fragrant blooms that make up their flower head. This is as opposed to a common Hybrid Jonquil, which is yellow or lemon in colour. Jonquils traditionally have a bell-like nose to their flower head which Erlicheer doesn't have. Regardless, they all smell amazing and should be enjoyed while they are in season! 
Erlicheer (or any Narcissus) is a really easy flower to grow in the home garden which means you can then pick them fresh to enjoy inside as a cut flower. Narcissus are bulb flowers so they are grown by popping the bulbs into soiled flower beds and waiting for the flower to appear from the ground (in early Winter/June).
If you can't grow Erlicheer in your garden, don't despair as they are still a cost-effective flower to buy at your local florist. On average you should pay $10-20 per bunch for premium quality blooms. If they are cheaper than this you can safely bet that old stock is being sold that needs to be moved, meaning they'll only last a few days.
Erlicheer is locally grown throughout all of Australia so we recommend you support local growers by buying their locally grown flowers when in season!
To create a vase full of Erlicheer, follow these simple steps:
Source a rectangular-shaped glass vase approximately 6cm deep, 18cm wide and 18cm high. Always source premium quality vase ware and not cheap vaseware. Cheap vaseware is usually comprised of an inconsistent glass thickness and therefore is at a higher risk of breaking, cracking, and causing harm.


Clean and rinse the vase with a hint of bleach. This will thoroughly clean the vase and remove any bacteria which will affect the longevity of the Erlicheer.


Fill the vase with 2 inches of fresh, cool water. Narcissus doesn't like to sit in too much water as their stems will turn to mush. They like minimal water that needs to be refreshed every second day.


Source 3 bunches of Erlicheer for the above rectangle vase. 1 or 2 bunches would look too lean and 5 bunches would be too many for this sized vase.


You can spiral the Erlicheer stems in your hand by picking up 5 stems at a time and turning your hand each time you add the stems. Keep adding the stems until you have used them all up. Keep all the heads at the same level to ensure when you place the bouquet into the vase, tall stems won't stand out randomly.


Alternatively, you can lay all the Erlicheer stems on the bench with all their heads in line (at the same height) and cut their stems in a straight row. Pick up the stems with all their heads the same height and ensure the stems are all the same length. If the stem ends are different heights, cut them again to ensure all the stems are the same length.


Measure the stem length by holding the bouquet of Erlicheer right up to the vase. Make sure the heads are just sitting above the vase rim. If they are too tall the stems will splay out and look wild. I recommend you keep them contained and shorter as they will last longer. 



Cut the stems and place the flowers into the vase. 
Every 2 days, take the Erlicheer out of the vase (laying them down on a towel), clean the vase out using a drop of bleach, and then refill the vase with fresh, cool water. Display the stems again and remove any flawed, drying, or transparent stems.
Keep the vase somewhere cool and not in direct heat or sunlight. 
Here's the final result:
And here's a quick little vid on the process:
Erlicheer should last a minimum of 5 - 12 days.
I hope you enjoy filling your home with fresh cut bunches of Erlicheer, or by spoiling a loved one by dropping off your own creative arrangement. I promise your home will smell absolutely divine with these natural scented fresh flowers!
Kate x