F1 Australian Grand Prix 2020 - Florals for 'Porsche Women With Drive'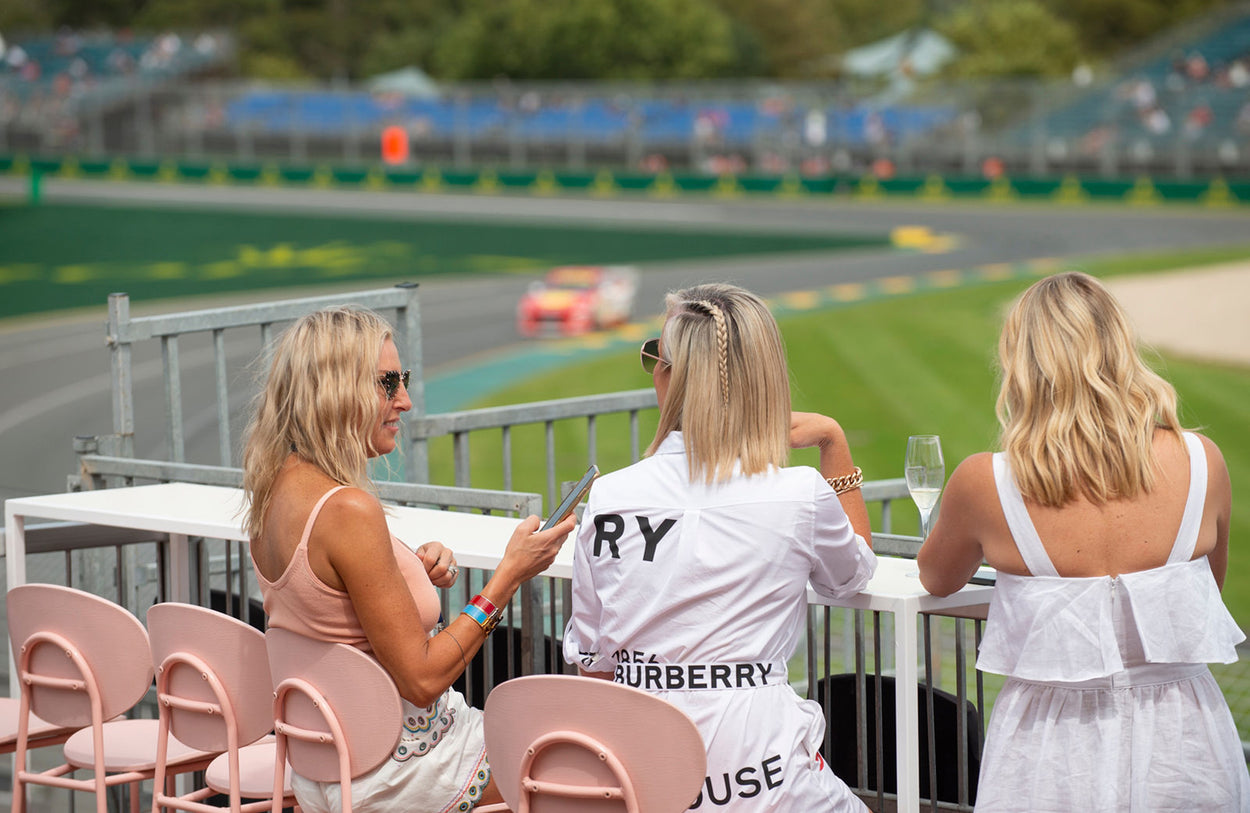 We have had the absolute pleasure of working on multiple Australian F1 Grand Prix events over the past 13 years, and every year gets better and better! 2020 was no exception, but thanks to the COVID19 pandemic, sadly, the Australian F1 Grand Prix 2020 did not end as planned.
Every year we have the honour of working with some truly exceptional brands/clients for the annual Australian F1 Grand Prix event. A stand out for us is the opportunity to work with Porsche on their F1 Pavilion site, as well as the multiple events they host for the Australian Grand Prix.
Porsche has a prime location at the Australian Grand Prix race track where they host a number of events in the week leading up to the Australian F1 Grand Prix main race day. It's located a short walk away from Carousel and the view of the race track is nothing short of every F1 fan's dream seat.
The week directly leading up to the main race is full of exciting race days, luncheons, and launches and is the biggest event week for Porsche, enabling them to showcase every aspect of Porsche racing.
One of Porsche's most unique F1 Australian Grand Prix events is the 'Women With Drive' event, which celebrates the incredible community of Porsche Women in Australia. The room is filled with the most stylish and incredibly inspiring women who are passionate Porsche drivers.This year saw Kate Reid (aerospace engineer / extraordinary patissier / creator Lune Croissanterie) as one of the guest speakers. 
For the Women With Drive event, we were called in to design elegant and chic florals that were feminine and on-brand with Porsche. Tables were filled with dark moody burgundy florals and pops of blush to compliment the table linen and surroundings. Flowers included seasonal dark smoke bush foliage, dark burgundy anthuriums, reflexed blush roses, blush phalaenopsis orchids, burgundy cymbidium orchids, and blush disbuds. All combining to create a sophisticated and on-trend design style.
Absolutely every detail of every GP event from every supplier is highly considered and must be executed to perfection. As with any major event, it's not just about creating stunning flowers that blow everyone away, it's all about supporting the brand values and making for an unforgettable experience. It's always an honour to work with prestigious brands like Porsche, however the added pressure of such high expectations, very short turn arounds, difficult logistics, and working with a perishable product that has to look perfect at all times, is anything but easy. It takes experience with working with major events, and strong relationships within our industry and other GP associates. Beautifully executed florals, in the end, are indeed just one piece of the puzzle.
Kate x