Wedding Highlight | Tamara & Rob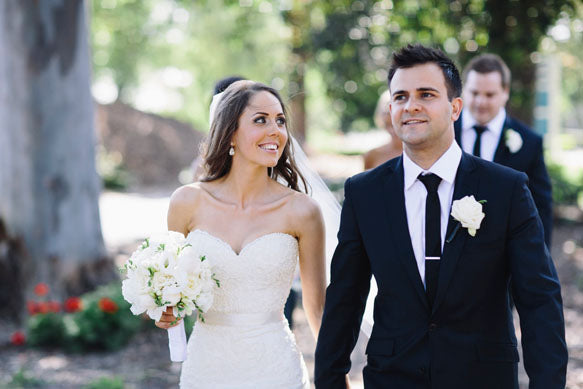 We have had an amazing Spring/Summer wedding season so far filled with truckloads of beautiful flowers, hard work and gorgeous clients.
I'm currently enjoying a small break and have found time to reflect on the amazing year we have had after receiving a beautifully worded emailed from a spring bride, Tamara, which has made my day.
Tamara and Rob celebrated their wedding day in pure style at The Harbour Room on Saturday 30th November, with food catered for by Food & Desire. The florals consisted of premium seasonal flowers in predominantly whites, blues, and touches of soft pale pink and green tones, with the bridal bouquets featuring white peony roses, garden roses, freesias, lissianthus, pale blue delphinium blooms, and the venue featuring masses of pale blue, mid blue and dark blue seasonal flowers such as hydrangeas, agapanthus, delphiniums and hyacinths.
Each table at the venue was styled with masses of different sized vessels with varying shades of blue flowers. This style of table setting and colour palette complimented the venue beautifully and looked amazing.
The styling was finished off with masses of different sized white paper lanterns hanging from the ceiling, which finished the venue setting perfectly.
Below are some photos was were captured beautifully by the talented Leo Farrell.
x Kate