Wedding Flowers Highlight | Stephen & Lea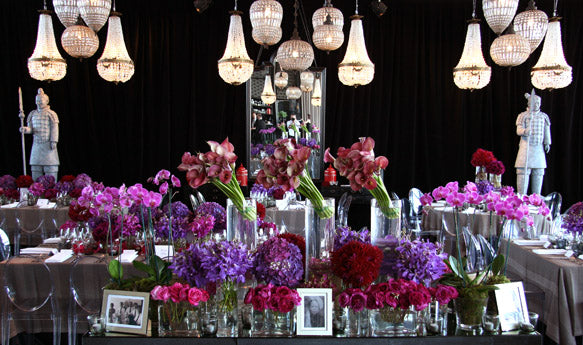 Stephen and Lea's wedding was set on a perfect summers day, with both the ceremony and reception taking place at the very chic Luminare, in South Melbourne.
The roof top ceremony location was styled with a white canopy, Philippe Starck style ghost chairs, beautiful blue hydrangea spheres seated in tall clear cylinder vases, and the aisle featured a rich red carpet to add dramatic impact to the ceremony.
After the ceremony the celebrations started and guests were guided into the reception venue for dinner. Guests were treated to an extravagance of bold, rich colours with masses of dense floral groupings. I worked closely with Lea on the creative direction and the brief was 'rich colour' and a setting that highlighted the couple's English / Asian backgrounds. The couple had also custom designed their menu with The Big Group to reflect their style of contemporary European / Asian fusion.
We incorporated beautiful seasonal blooms such as burgundy dahlias, fuchsia phalaenopsis orchids, purple and hot pink Vanda orchids, purple and blue hydrangeas and heavenly scented garden roses. Each table setting featured a slightly different grouping of different vases with dense displays of monochromatic blooms. The couple also brought in beautiful ancient oriental props which the florals complimented perfectly.
x Kate