Wedding Flowers Highlight | Pier Ann & Anthony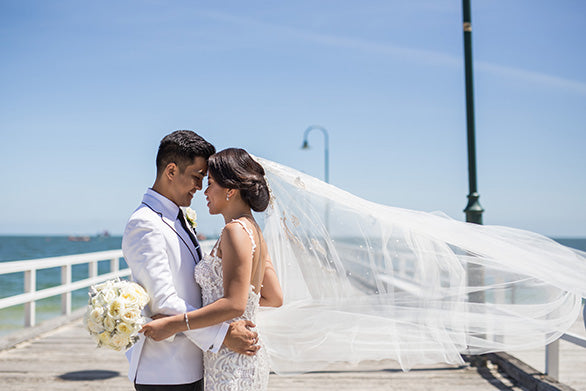 We started 2016 with a big, beautiful wedding. The wedding of a very special couple, Pier Ann & Anthony at Carousel, Albert Park Lake. It was a magical Melbourne day and we one we will cherish forever.
The couple planned their wedding from Sydney, which meant initial meetings via Skype and then catch ups in person when Pier Ann and Anthony visited Melbourne.
Pier Ann and Anthony set the colour direction of a silver, white & green. In answer to this we designed with premium, locally grown David Austin garden roses (the bride's favourite rose), Lisianthus blooms and soft silver suede foliage for the Bridal Bouquets.
The venue featured custom made mirrored vases to house dense, locally grown Hydrangeas, Amylou Roses, green Peppercorn foliage and soft Silver Suede foliage.
The Carousel roof featured a custom hanging installation which covered 4 metres of the truss line with dense seasonal foliage's, dense clusters of white blooms and hanging glass spheres flickering with candle light.
We are once again lucky to have beautiful people trust us to create their wedding flowers.
x Kate
Photographer | T-One Image | www.t-oneimage.com.au