Wedding Flowers Highlight | Lizzie & Simon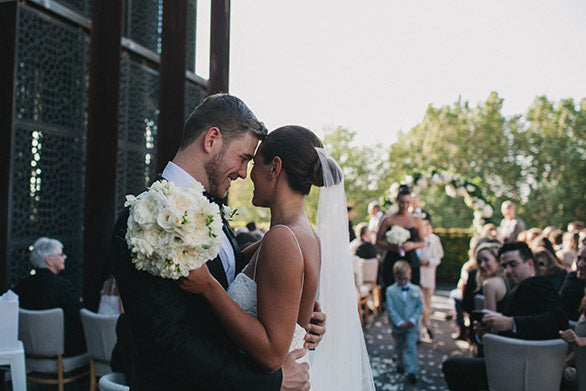 Spring is such a beautiful time of year for a wedding. Melbourne comes alive so radiantly after our long, coolish winters! 'The Deck' is perfect for Spring weddings with its beautiful outdoor deck that includes a fixed outdoor marquee so whatever the weather, your event will run to plan. And the views and bustle of St Kilda beach are energising!
One beautiful spring wedding I would love to share with you is that of Lizzie & Simon, who celebrated their wedding in October.
Lizzie & Simon, a fun loving couple, celebrated their stunning Spring wedding at The Deck in St Kilda on a warm, perfect day. For the Ceremony setting, we featured a custom garden floral archway which created a beautiful floral back drop. After the Ceremony, we transferred the archway inside and positioned it behind the bridal table so couple really got to maximise the installation for both the Ceremony and the Reception.
The venue was filled with white and green seasonal blooms and foliage throughout focal areas including the large round entrance table, guest tables, bridal table and gift table. Flowers included fragrant white Roses, white Hydrangeas, white double Ranunculus, fragrant white Hyacinth, white Tulips, white Sweet peas and flowering foliage—all the couple's favourite flowers.
Here are some kind words from Lizzie & Simon….
"We had the best night ever! Everything was absolutely perfect, and each and every guest had such nice things to say about the wedding (especially how elegant and beautiful the flowers looked). We appreciate everything you did to help out so much, we didn't need to worry about a thing as you were so professional and looked after absolutely everything... I could not stop looking at that arch!"
Be sure to take a look at their beautiful wedding video captured by Purple Ribbon Wedding and be inspired - http://purpleribbonweddings.com.au/featured/lizzie-and-simon-melbourne-wedding-video/
Photographer | Kirsten Cook http://www.kristencook.com.au/