Wedding Flowers Highlight | Ann & Lindsay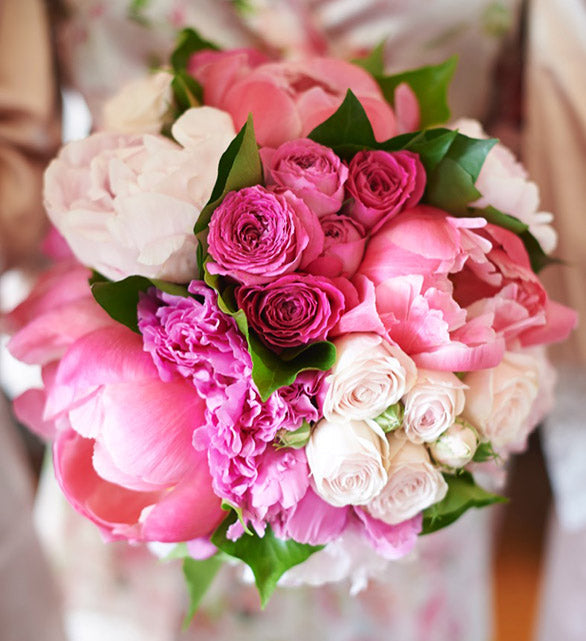 Today I want to share a beautiful, vibrant, fun Summer wedding with you all.  A wedding that I hope inspires you to add a little bit of colour into your flower palate.
Ann & Lindsay celebrated their wedding with a luxurious, intimate dinner, held in the Circa private dining room. Their love of colour, flowers and sophistication was shared through the detailing of flowers, stationary and food. Ann's love of Peony Roses and colour are evident in the images below.
Ann wore a custom floral crown which featured multiple varieties of Peony Roses, Cottage Roses and Lisianthus blooms. Her large natural Bridal Bouquet was deigned to compliment her Floral Crown.
We designed the Bridesmaids bouquets in soft pastel tones. Their bouquets were a complete contrast to each other and complimented one another perfectly.
The couple opted for a custom design floral watercolour stationary which was inspired by the flowers.
We styled the lavish dinner setting with lush green tones and dense white seasonal blooms including Hydrangeas, Peony Roses and Carnations. The room featured hanging lush green foliage garlands which were draped across the roof beams finished with hanging glass spheres flickering warm LED tealights.
I hand selected each and every flower for Ann's wedding to ensure the colour palette was absolutely perfect. We had so much fun working with a vibrant colour palette and I hope this beautiful Summer wedding inspires you to think outside of the box & get creative!
x Kate
Photography | Nikole Ramsay | www.nikoleramsay.com