Wedding Flowers Highlight | Mia & Ben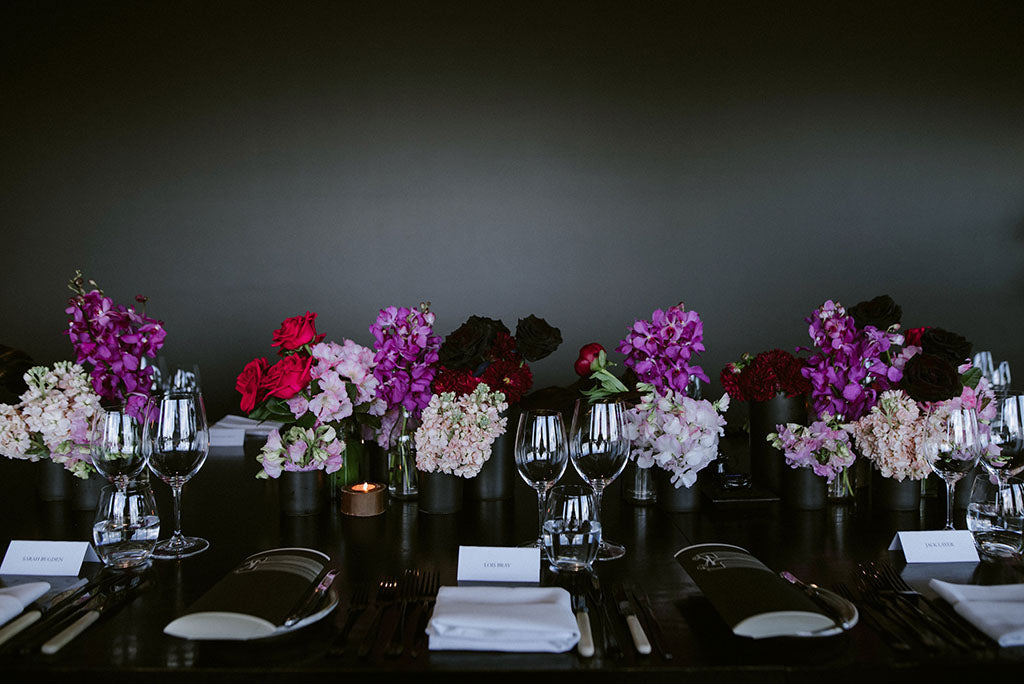 I literally put my heart and soul into every wedding I am lucky enough to do so I cannot describe the happy emotions I feel when receiving thank you messages and photos from brides after their wedding day. Right on cue after receiving Mia & Ben's email and images, I was immediately overwhelmed with happy (teary!) emotions, reflecting on their wedding flowers and beautiful day.
I had the pleasure of meeting Mia many years ago when we were planning her sister, Zoe's, wedding.  So it was an absolute honour to be booked for Mia's & Ben's wedding, which was celebrated in style in November at Vue Du Monde in Melbourne.
Mia (from Melbourne) and Ben (from England) met overseas and have travelled the world together, so they wanted to bring their Australian and English family and friends together to celebrate their dream wedding day in Melbourne. Wanting to do it in style, they chose Vue Du Monde as their reception venue which complimented the couple's love of food and wine, Melbourne and a sophisticated aesthetic.
From the second Mia described her Dolce & Gabbana gown to me, I knew Mia & Ben's wedding day was going to be exquisite, with a contemporary style and moody wedding flowers. 
Mia opted to carry a non-structural, custom bouquet created with black Roses (imported from overseas) burgundy seasonal foliage with pops of coral Peony Roses and cascading Jasmine flowering foliage. I hand selected Mia's personal wedding flowers from our premium growers and all the wedding venue flowers. Apart from the black Roses and Peony Roses, which were sourced from overseas, all the wedding flowers were locally grown in Melbourne, Victoria.
We carried the style and colours of flowers through to Ben's traditional Boutonniere, the Flower Girl Floral Crown and the Family Corsages. Consistency draws extra impact from the wedding flowers in a way that is far greater than changing colours and flowers for each individual design.
As guests entered Vue Du Monde's private dining venue space, they were wowed with 2 long tables filled with moody rich flowers running the entire length of each long table. We style each table with layers of different sized vases in clear glass or black and displayed them so the flowers filled the entire table centre. Flowers included Dahlias, Peony Roses, Black Roses, Sweetpeas, Classic Roses, Mokara Orchids and Stock.
Enjoy!
Kate x
Photographer | Sofia Flinn from Enchanted Wedding Photography @enchanted_weddings