Wedding Flowers Highlight | Marie & Francesco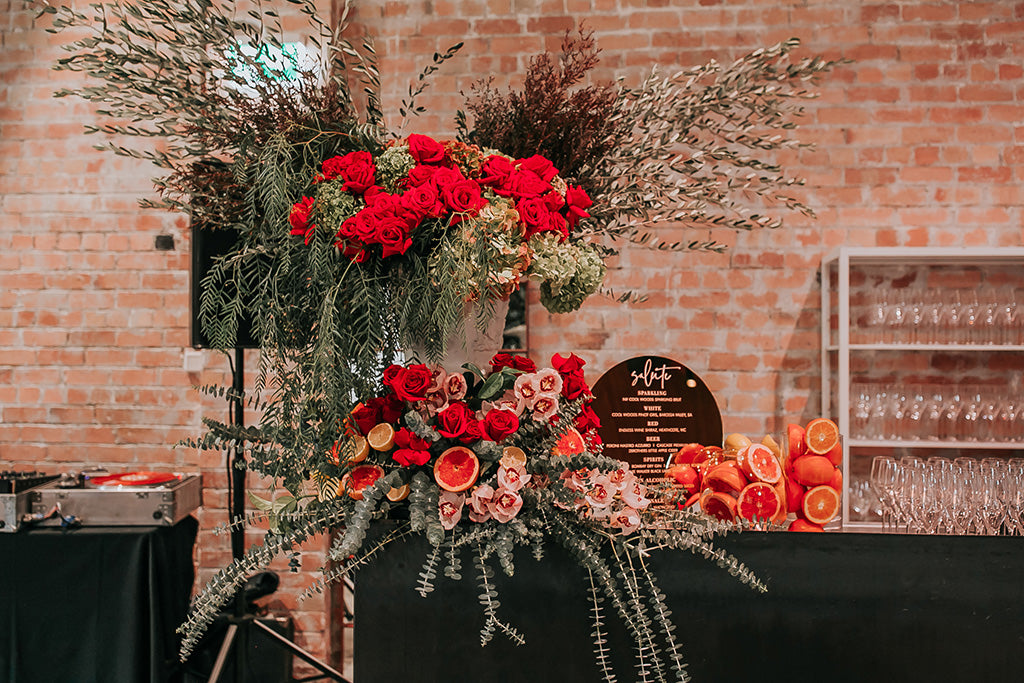 Winter is such a beautiful and wonderfully moody time of year for a Melbourne wedding. Today I'd like to share Marie & Francesca's Melbourne meets Positano Winter Wedding, which shows just how underrated winter weddings can be.
I have known Marie for many years by virtue of her being my hairdresser, and for an even longer time we have had the good fortune to share many of the same clients for media and weddings. If you live in Melbourne, you'll know she is at the very top of her craft, and an impossibly beautiful soul to boot, so to be asked to be her wedding florist completely blew me away with emotional excitement. 
Marie and Francesco's creative brief for their wedding was 'Melbourne meets Positano'. Driven by a wow-factor of colour, flowers and a fun vibe the brief reflected the couple's Italian heritage, personalities, love of life and celebration. Marie has seen soooo many weddings and events over the years so she really wanted a unique and never seen before wedding.  Knowing her personally made the brief all the more exciting but also an extra challenge as I really wanted to surprise the couple with over delivering on their florals! The florals needed to reflect their chic style so I was very mindful of ensuring their venue flowers looked stylish, while being bright and fun. I can't thank Marie and Francesco enough for trusting me to fulfil their dream day as this was definitely a break from the traditional.
Marie's Bridal Bouquet needed to be unique, compliment Marie's beautiful Cappellazzo Couture custom gown, feature her favourite flowers, and last but not least, be chic and fun. I created her Bridal Bouquet with reflexed white Roses, white Lisianthus blooms, pure white Phalaenopsis Orchid stems and white Peony Roses (my surprise for Marie, which were imported from Europe). The rest of the Bridal Flowers complimented Marie's Bridal Bouquet while presenting as slightly smaller and nuanced.
The traditional Church Ceremony Flowers were also designed with white and green tones to compliment the Bridal Flowers and the Ceremony setting. This also meant that the guests had no clue as to what the Venue would look like. I highly recommend keeping the Bridal Flowers and Ceremony Flower classic so they that compliment the gown or space. Follow your own style and not what the trend is, otherwise you'll look back in 30 years and think 'what was I thinking, that's not us'!
The couple chose a new Melbourne venue, 'Half Acre', to celebrate their wedding reception. Half Acre is a fantastic Melbourne city fringe venue, which is catered by food&desire (also owners of Carousel and Aerial), which served well to showcase Maria & Francesco's love of Melbourne. 
In terms of the colour palette, we chose a luxurious mix of Reds, Blush, pops of Orange, subtle Blue/Greys and lots of textural Green for the venue. The masses of citrus fruits to the flowers added another interesting twist to the flowers. We also needed to keep in mind that every element needed to compliment the stunning custom stationery and signage designed by Lauren Skorsis Design.
As guests entered through a Tuscan style courtyard, a freestanding gold mirror 'Welcome Sign' greeted them. Once guests walked through the large wooden doors, they were wowed by the pre-dinner drinks area. On the Bar we created an eye catching installation styled with an oversized urn design that exploded with bold, rich, red and lush green foliages. Flowers and foliage included Olive (to symbolise peace), reflexed Red Roses (to symbolise pure love), Pink Cymbidium Orchids (to symbolise refined beauty), Orange Roses (to symbolise passion & celebration) amongst other seasonal flowers in red, blush, orange and green tones. To finish the Bar Design we styled masses of fragrant fresh citrus fruits and custom Lauren Skorsis signage. The Bar Design acted as one of many focal installations throughout the space.
Each long banquet table featured a continuous flow of individual long and low hedges. The hedges displayed textural blue/grey spinning gum foliage, groupings of blood oranges and lemon halves, flowers in blush, red  and orange tones. At the end of the night, guests were invited to enjoy the table hedges which added to the celebration.
Behind the Bride and Groom, we positioned a one-off, custom Flower Wall. Their Flower Wall installation was anything but average! The custom 2m by 2m Wall structure was covered with lush green foliages (layers and layers of green foliages!) with a custom neon sign, designed by 'Neon Confetti' with the words 'Viva Gli Sposi'. Layers and layers of red, blush and orange flowers popped from the neon sign with fresh citrus halves completing the Flower Wall Installation. Not only did the Flower Wall look incredible thanks to the layers of foliage, flower, neon sign and citrus but it smelt amazing too! The couple enjoyed sitting in front of the installation while the reception dinner was celebrated. And throughout the evening the couple enjoyed having photographs taken with their loved ones.
Words and images can not describe how grateful I am to have Marie as a friend but also to be a part of her dream wedding day. It was an absolute honour and pleasure helping to make her dream day come to life. 
Kate x
Venue - Half Acre
Photographer - Asiya & Maye
Stationery and Signage - Lauren Skorsis Design Studio
Neon Sign - Electric Confetti 
Gown - Capellazzo Couture