Wedding Flowers Highlight | Julia & Sean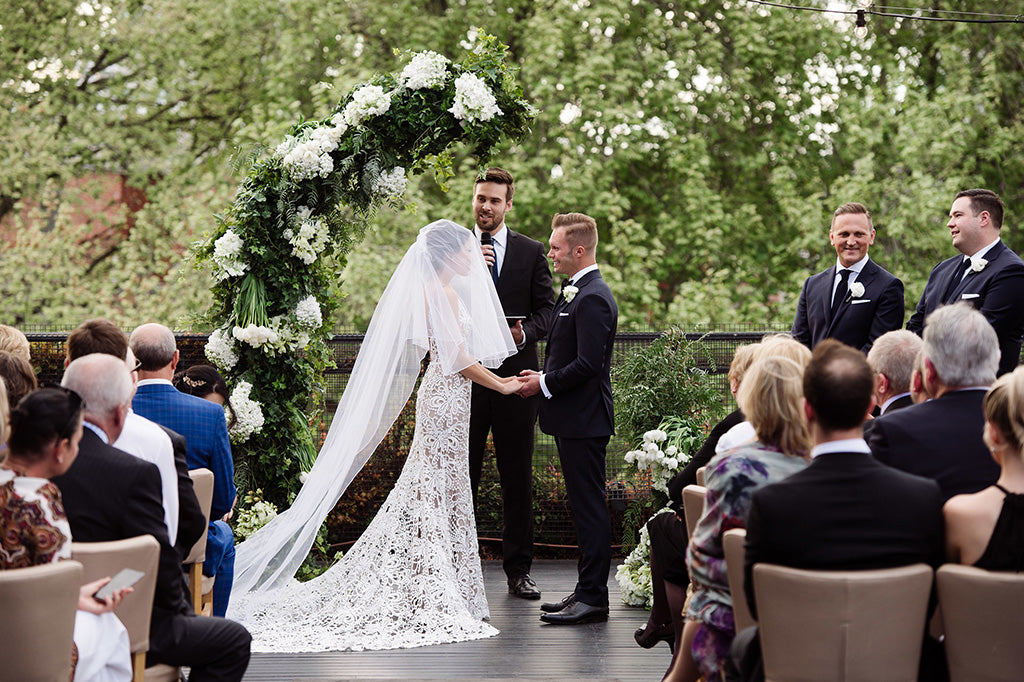 Spring weddings in Melbourne are magic. Starved of sunny days, Melbourne seems to come alive with vigour in the very second that Spring arrives on our doorstep. And when it comes to designing wedding flowers in Spring, it's hard for us not to love every wedding because not only are we out working in glorious weather, but we also have some of our favourite wedding flowers in season to work with.
One of my favourite Spring weddings was that of Julia & Sean's. Celebrated in absolute style at The Deck, St Kilda, Julia's elegant and effortless style mixed with Sean's cool sophistication were translated through every element of the wedding, including of course, their wedding flowers and styling. The chic couple chose a contemporary and white style direction for their wedding which complimented both their personal style and The Deck, which is always a slick platform for any designer to work with.
We created a bespoke, 2 metre, asymmetrical garden archway design for their ceremony backdrop which framed the couple beautifully. The freestanding steel structure was covered with lush green Spring foliages and adorned with fresh white Spring wedding flowers, all locally grown in Melbourne. After the ceremony, the archway stayed in place to act as a fun photo wall for guests to take images in front of. We made the cake table a wow factor feature by displaying masses of varying sized vases with white and green Spring flowers behind and around the cake. This was positioned in an open space which made the cake table a real floral statement. Guests tables featured a single but dense floral vase design of the same white and green Spring flowers.
Some of the wedding flowers featured were locally grown tall flowering Blossom, white Sweetpea, white Tulips, white Double Ranunculus, white Freesias, white Clethra foliage, white Stock and white Hydrangea. Julia's elegant bouquet featured premium white Double Ranunculus, white Freesias, hints of white Clethra foliage and ivory white Classic Roses which complimented her delicate lace and beautifully detailed gown.
Julia and Sean planned every element of their wedding day together to ensure their day reflected them both. Their attention to detail was also shown throughout their stationery, custom made perspex table numbers & signage and cake detailing.
Booking a Spring wedding in Melbourne doesn't always promise a perfect warm and blue sky wedding day, but if you choose the right venue, you'll have a perfect wedding day with the added bonus of featuring all of the most magical wedding flowers mother nature has to offer.
Kate x
Photographer | Jerome Cole