Wedding Flowers Highlight | Jane & Callum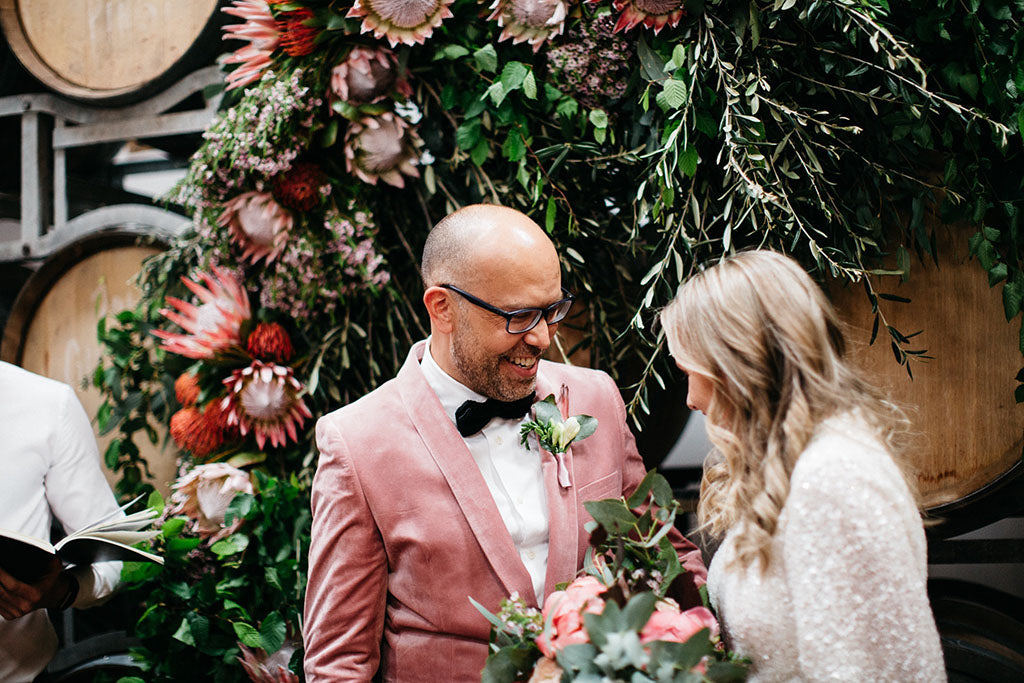 I believe that your wedding day should truly reflect your love for one another, your love for everyone in the room, who you are as a couple, and be a celebration in your personal style. Callum & Jane's spring wedding oozed sophistication, fun, truly reflected the cool couple - and we couldn't have been happier to be invited to create their beautiful wedding flowers for them.
I have known Callum, the groom, for over 20 years so it was in fact a personal honour when they asked if I would be their wedding florist. It made it easier for me knowing the couple, but also a little harder, as I wanted to ensure they absolutely loved every detail we created for their day. The pressure was on! And I think we nailed it.
We helped Callum and Jane celebrate their wedding day at a very cool Melbourne venue, Noisy Ritual in Brunswick, last November, and their wedding day truly reflected them as a couple. The venue played host to both their Ceremony and Reception, and what a perfect space it turned out to be.
A suspended asymmetrical archway hung wildly from the venue's wine barrel wall which displayed lush wild Olive, Beech and Eucalyptus foliages adorned with dense groupings of Blush Pink King Proteas, pops of Orange Leucospermum Pincushions and Blush Classic Roses. Tables were styled with short rose gold vases displaying wild native foliages, pops of Orange Leucospermum Pincushions and Blush Classic Roses, so the wedding flowers stayed consistent throughout the venue.
Jane's Bridal Bouquet was created with specially selected Coral Charm Peony Roses, pops of Orange Leucospermum Pincushions, Blush Classic Roses, Ivory Sweetpea, White Freesias, Geraldine Budwax, Spinning Gum, Olive, Peppercorn and Jasmine. It was a smaller, unstructured bouquet which complimented Callum's buttonhole perfectly.
Callum and Jane's choice of venue, style of wedding and colour palette truly reflected their effortlessly cool style. Their love of colours including Coral, Black, Ivory, Native Greens and Blush came through in the flowers and table stationery. A beautiful colour palette to work with! And how cool was Callum's jacket?! If Jane didn't look so amazing he might have just stolen the show!
If you haven't seen or heard of Noisy Ritual, you should definitely check it out as an option if you are looking for a fun and slightly left of field inner city Melbourne wedding venue. Noisy Ritual was founded by two mates after the serendipitous discovery of a wine fermenter in a suburban basement, it's now a full scale winery making premium wine in the city with grapes sourced from vineyards all over Victoria. So one thing you can be sure of, is that it will never run dry on your big day!
Kate x
Photos: Marie-Luise Skibbe