Wedding Flowers Highlight | Esther & Christopher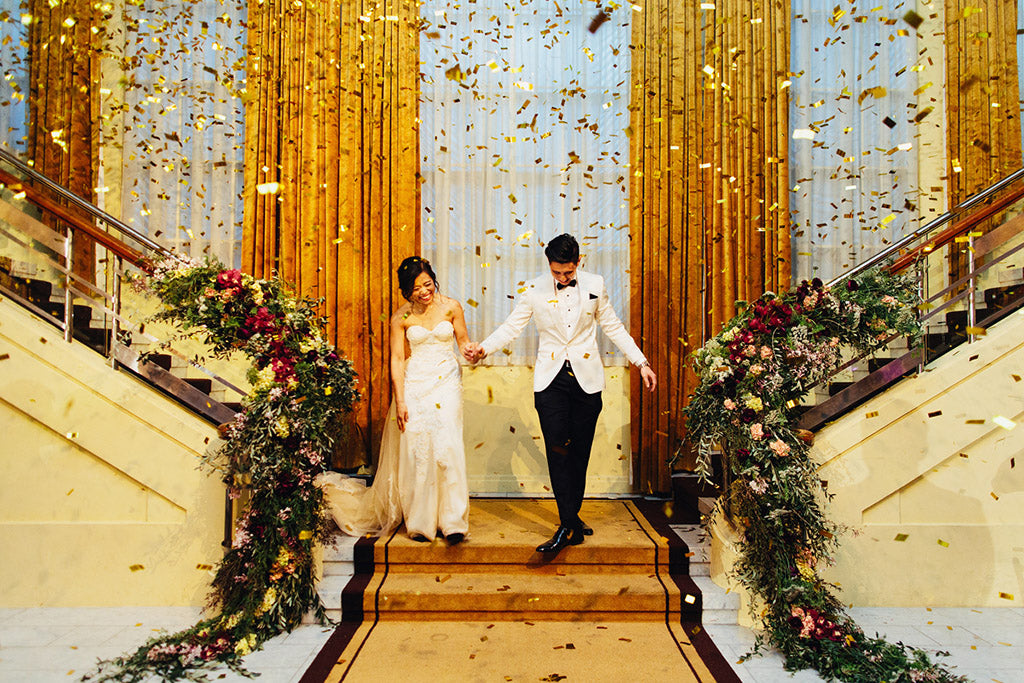 We had such a wonderful Spring, full of beautiful weather, amazing couples, and of course stunning weddings full of beautiful wedding flowers.
Esther and Christopher were such a fun, loving and stylish couple, celebrating their beautiful Spring wedding in pure decadent style at Scots Church and Myer Mural Hall which is located in the heart of Melbourne. It turned out to be the most perfect Spring day in Melbourne for the couple to celebrate their wedding.
Esther and Christopher's wedding flowers were created using decadent spring flowers in theme with their preferred colour palette, which consisted of champagne, cream, pops of peach, and burgundy tones. The wedding flowers were designed to compliment the Bridal Party gowns & suits, the classic ceremony location, and the opulent reception venue. The wedding flowers included locally grown Classic Roses, Stock, Sweetpea, Freesias, Double Ranunculus, flowering Jasmine foliage, Cymbidium Orchids, Latte Dahlias, Crab Apple Blossom, Olive, Tritree Foliage and other seasonal blooms sourced from the very best local Victorian growers.
The beautiful bride carried a custom, naturally cascading bridal bouquet of heavenly, fragrant flowering Jasmine, locally grown Champagne Classic Roses, fragrant pale pink Amylou Roses, Freesias and pops of burgundy Double Ranunculus.
Spring would have to be my favourite season, just like most flower lovers I would expect! And it's not hard to work out why when we have access to such an abundance of seasonal and locally grown blooms between September and November for wedding flowers. Esther and Christopher's wedding was right in the middle of Spring glory and we all cherished designing their beautiful Spring wedding flowers.
I also loved the couple's choice to have both Ceremony and Reception venue located in the heart of Melbourne. This makes it so much easier for the bridal party and their guests from a logistical point of view. Guests could stroll from Scots Church to Myer Mural Hall with ease, enjoying Melbourne's interesting streets and laneways on the way. It really makes my heart sing to reflect on such beautiful Spring weddings and have the opportunity to bring a bride and groom's vision for their wedding flowers to life.
Kate x

Photography | Sayer Heffernan