Wedding Flowers Highlight | Emriye & Osman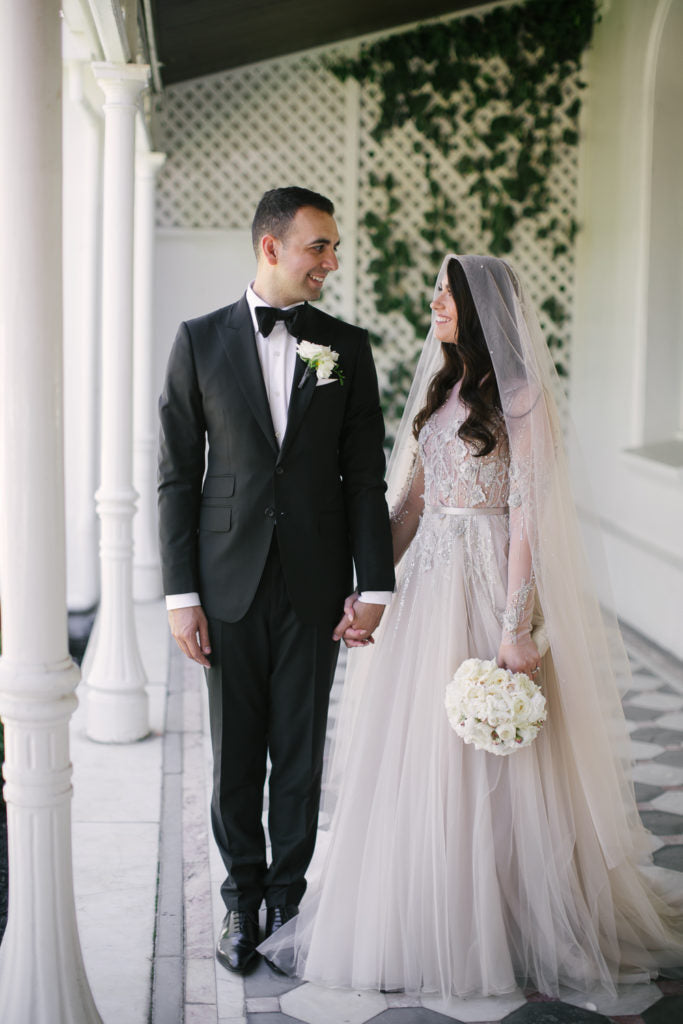 One of my favourite Summer weddings to date would have to be that of Emriye and Osman who celebrated their wedding in January at Aerial.
From the very first meeting I felt a very special connection with the couple who worked tirelessly together on their wedding planning. It was such an honour and privilege to meet such a beautiful, caring, strong couple who shared the planning journey closely together and then see their dream wedding come to life.
We created elegant, classic, bridal bouquets full of locally grown David Austin Garden Roses, soft Lissianthus blooms and fragrant Amylou Roses to compliment the style of the wedding and gowns. Emriye's custom bridal gown was designed by the incredible Paolo Sebastian and I have to say that the intricate detail was just breathtaking.
The floral colour palette carried through to the ceremony which was held in the gardens of Quatt Quatta in Elsternwick. The ceremony featured a custom archway installation which was naturally suspended from the gazebo to create a beautiful highlight. We constructed a natural archway frame made from garlands of Olive foliage, Peppercorn foliage, green Doddavine and Trailing Ivy which we then adorned with layers of locally grown, fragrant Amylou Roses, Hydrangeas, Stock, Snapdragon, Hanging Amaranthus, Hydrangea Foliage and Bouvardia blooms.
After the ceremony we then transferred the installation to Aerial to create a beautiful statement at the entrance staircase. As guests arrived at the venue they were blown away by the entrance and had no idea we had restyled the ceremony installation.
The celebrations continued at the very chic Southbank venue catered by the team at food&desire where guest tables were styled with custom, fresh floral and foliage hedges full of seasonal white Hydrangeas, fragrant Roses, Stock and green foliages. The focal bridal table displayed a table length hedge which cascaded over the table.
Other beautiful details included luxurious stationary and signage created by Wedding Paper Chic and a flawless cake created by Something About Cake. The perfect wedding day was captured by talented photographers Tori and Sal.
Kate x