Wedding Flowers Highlight | Clare & Cam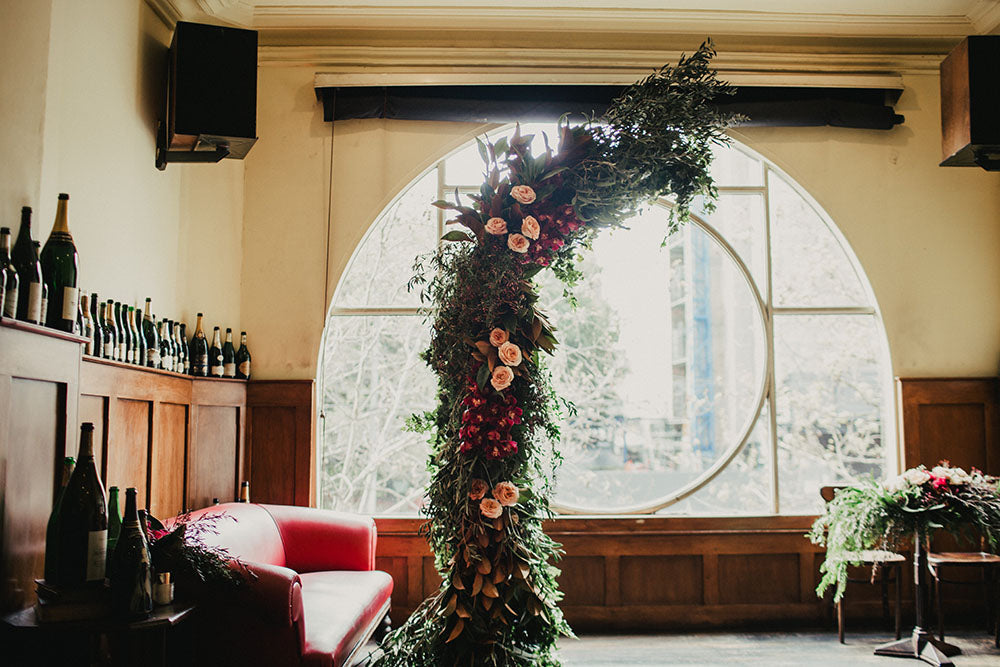 When I met Clare, a few months prior to her wedding day, I instantly connected with her and could have chatted to her all day about life, being a mum and her beautiful wedding. It was an absolute honour to design Clare & Cam's wedding flowers and I am most grateful for the couple giving me creative freedom to design their wildly chic wedding flowers.
Clare, Cam and their 3 beautiful girls celebrated their wedding day at Melbourne's iconic Supper Club before they headed to America to start a new chapter in life. It's hard not to get caught up in the bravery and emotion of this when working with a couple and meeting their beautiful family.
Clare carried a large and organic bouquet full of her fragrant flowers and colours which complimented her vibrant red gown perfectly. Masses of fragrant jasmine and native foliages draped wildly were finished with pops of peach classic Roses, red Cymbidium Orchids and burgundy Ranunculus. The dramatic style and colour palette followed through in every element of the bridal flowers, ceremony and venue flowers.
We created a custom, asymmetrical archway installation, which the couple stood in front during the ceremony. This  worked perfectly in with the venue's iconic bay window and surroundings and is a reminder that flowers can create special place for a ceremony to be held within a reception venue.
To the right of the archway flowers, a decadent signing table design cascaded over the edges so it tied into the ceremony beautifully.
The venue was styled with small but dramatic pops of floral. Proof as always, that sometimes less is more.
Some kind words from Clare…
"We loved the flowers. They were the highlight of our day and I couldn't have been any happier with them. Thank you SO much. I appreciate everything you did with them, and the extras you threw in. People were blown away with the awesomeness of the flowers, especially that flower arch. And all I wanted was lovely flowers and I got that and more.
I will be recommending your business to anyone who will listen. You and your team are amazing!"
We are so grateful that we meet amazing and inspiring people who trust us to design their wedding flowers. Our team had so much creative fun creating every element of Clare & Cam's wedding.
x Kate
P.S. And how about that dress, ladies and gentleman!
Photographer | Daniel Brannan