Wedding Flowers Highlight | Cassandra & Peter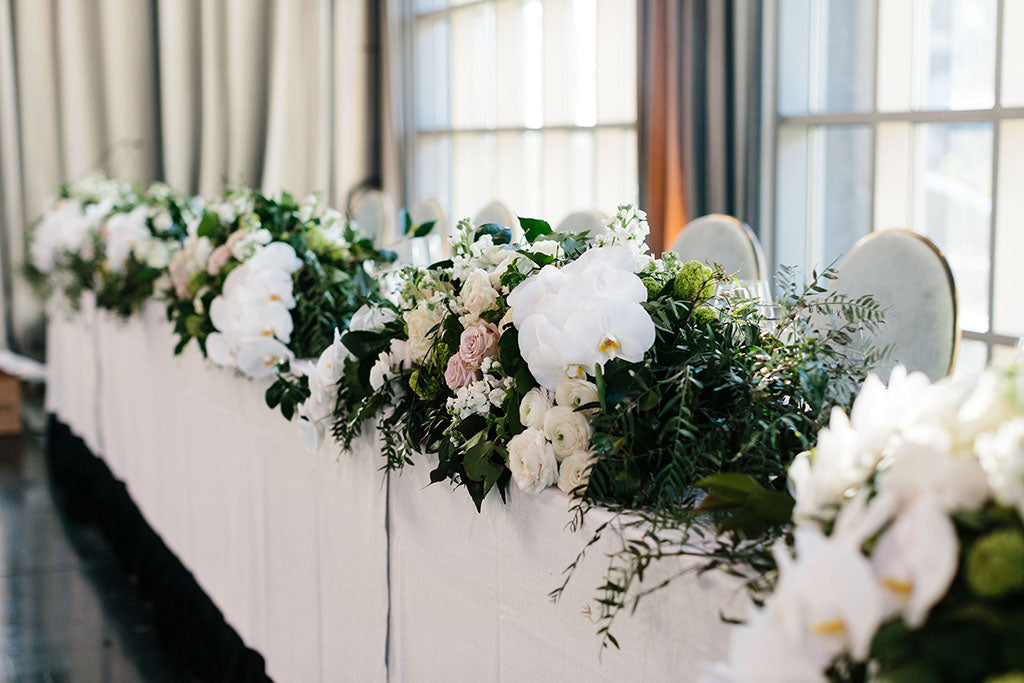 I met Cassandra almost 2 years ago now. In that moment I felt an instant connection with her, not to mention immediately falling in love with the concept she had created for her wedding, and of course, wedding flowers.
Cassandra happens to be an incredible interior designer. Her love of design, impeccable style and attention to detail, backed with Peter's love, trust and calm nature, truly set the most solid platform for Cassandra and Peter's wedding (and wedding flowers!) being one to remember.
Cassandra and I caught up on a number of occasions throughout the planning of her wedding flowers to ensure we both stayed on point with the floral brief. Planning wedding flowers well in advance, in this case more than a year out, means ideas and styles can change and evolve. Accordingly, I am always available to provide support and professional guidance when plans and concepts change. In fact, the scope of my support often extends far beyond helping with wedding flowers as brides unwittingly become event planners in the lead up to their weddings. And trust me, being an event planner is anything but an easy job - even for professional event planners, so my help is always warmly given, and welcomed!
Cassandra and Peter celebrated their dream wedding on a perfect Melbourne Spring day. The day started early, with traditional family celebrations, followed by a formal cathedral ceremony, and then a decadent evening reception held at Metropolis.
I personally created the custom bridal bouquet to compliment Cassandra's bridal gown (designed by Cappellazzo Couture). The bridal bouquet featured premium spring flowers which included white Double Ranunculus, white Sweet pea, white Freesias, Classic Roses and flowering white Clethra Foliage, which were all locally grown and sourced for Cassandra.
The bridesmaid's carried smaller versions of the bridal bouquet, which also complimented their Cappellazzo Ready to Wear Blue gowns. I have to admit, I absolutely love a blue bridesmaid gown. It is such an elegant and timeless gown colour for a wedding. And I have to mention the boys looked very dapper in their Oscar Hunt tuxedos.
The evening reception brief was grand, with an oversized, dense styling of flowers styled throughout the chic event space that is Metropolis. Cassandra opted for colour palette of white, gold, a hint of blush, and a green texture which complimented the interior aesthetic perfectly. As guests entered the venue, they had their breath taken away by masses of elevated flowers lavishing the entire room.
Tables featured tall, grand centrepieces, reaching over 1.5 metres high, which displayed lush, green, oversized foliages, blush fragrant Roses, white and green Snowball and ivory fragrant Roses. Each table setting was styled with a slight difference to maintain an unfolding visual interest throughout the room, and we finished the table settings with smaller, short, dense and fragrant vase designs to complement the grand table centres.
Cassandra & Peter sourced beautiful premium Paper Jam Studio stationary, which included table numbers, menus and place cards, so we made sure the tables were detailed beautifully with fresh and fragrant florals.
The large gold and marble Bar featured a custom flower installation, featuring a detailed grouping of varying sized gold Table Top Tower stands with dense, seasonal, flowers exploding from each corner above.
We can not thank Cassandra and Peter enough for the amazing opportunity given to our entire team to design your beautiful wedding flowers. We will forever cherish your wedding day!
Kate x

Photography | Erin & Tara