Wedding Flowers Highlight | Braegan & Christopher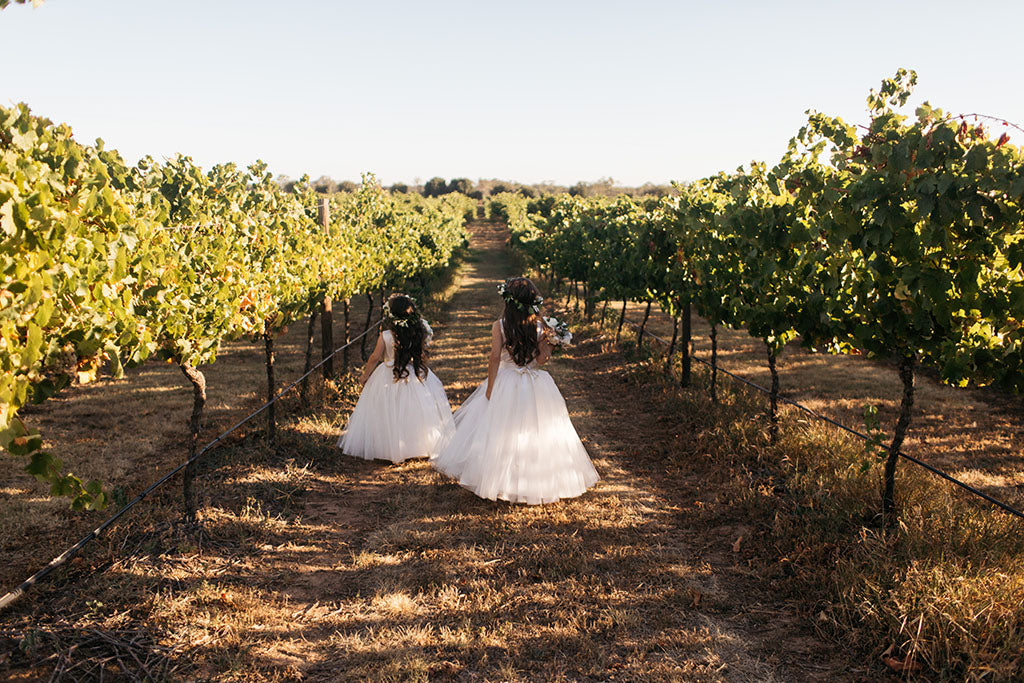 We absolutely loved travelling to Mitchelton Winery Estate in Nagambie to create Braegan and Christopher's wedding flowers. It was one of the most perfect Melbourne Summer days and you could not have wished for a more perfect blue sky day.
I met Braegan by chance a few months before her wedding when she visited our Prahran retail store. We got chatting and connected instantly. She was nervous we wouldn't know her venue so I surprised her when I said we had designed many weddings at Mitchelton and it was one of my favourite wedding venues!
If you have not visited Mitchelton Winery, you must!!! Not only do they produce delicious wines at a dangerously cost effective price point but you can enjoy them on the beautiful and unique grounds right on the edge of the Goulburn River. The property consists of acres & acres of grapevines, a cellar door, stunning boutique accommodation (large enough to host your entire wedding guest list), multiple venue spaces, a historic tower, and a top quality restaurant. Not to mention that the weather is always nicer & warmer in Nagambie so if Mebourne's weather concerns you, you should definitely check out Mitcheltons.
Braegan and Christopher's wedding style was what I would call 'country chic'. We designed the wedding flowers in refined white and green tones that were all locally sourced from Victorian growers. Braegan's bridal bouquet was created with classic fragrant garden David Austin roses, white Freesias, white Lisianthus and textural native foliages. We carried the same floral styling through to the bridesmaids, flowergirls and men's boutonnieres. 
The ceremony was set overlooking the river on a naturally landscaped amphitheatre. Such a picturesque and tranquil setting. We utilised the client's own archway and adorned it with a custom archway design, with long white satin fabric draped naturally over the wooden frame, and an attachment of long, dense foliage and floral garlands to the focal areas. 
Inside the venue space we styled 2 long banquet tables with a continuous flow of white and green, seasonal, long and low tank vase designs, displaying lush green seasonal foliage, white Hydrangea, fragrant white Roses and Queens Anne lace. Guests were invited to enjoy all the flowers (including the vases) from tables after the event as a keepsake thank you.
Grand urn designs were positioned on the bar and the entrance wine barrel to add wow factor and we styled the cake (designed by the talented Fork Yeah Cakes) on a wine barrel and decadently adorned it with fresh flowers so it was a focal point.
Fresh and fragrant, white and green seasonal flowers were styled throughout the venue so the venue space reflected Braegan's love of Summer flowers.
We will forever cherish Braegan and Christopher's wedding day and hope you are inspired by their beautiful photos - all beautifully captured by The White Tree.
Photography: @thewhitetree #thewhitetreephotography