For the Dahlia Flower Lovers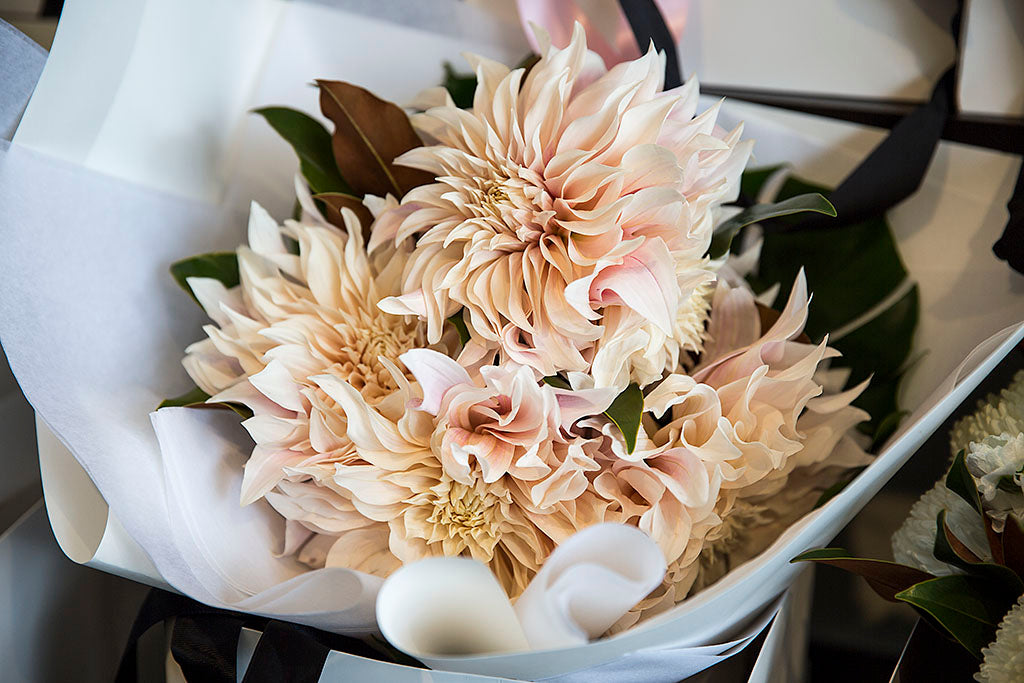 Any flower lover that walks past a florist and spots Dahlia flowers for sale will find it hard not to stop and pick up a bunch or two. Dahlia flowers instantly transform the feel of a room and are a perfect 'just because' gift for that close friend or special someone. Beyond their beauty, a lot of people don't know all that much about Dahlias so I thought I'd share a little bit more about them.
Dahlia flowers are native to Mexico and there are 42 species of the bushy, tuberous, herbaceous perennial plant. A member of the Asteraceae, dicotyledonous plants, related species include the Sunflower, Daisy, Chrysanthemum, and Zinnia. In the 16th-century, Dahlias were growing wild on the hillsides of Mexico.
The Dahlia was named after Anders Dahl, a Swedish botanist a student of Carolus Linnaeus, was born on 17th March 1751 and died at the age of 38.
Most commonly used as a garden plant or for decorative use as a cut flower, both Dahlia flowers and tubers are edible. The tubers taste like a cross between a potato and a radish (we are told!).
Dahlias can be planted easily into your garden and will flower late in Spring (October to November) and late Summer (March to May), when the weather is moderately warm and sunny.
Dahlia flowers always look beautiful in a tall vase. The more you cut them the more they will bloom. Cut the stems in the morning before the heat of the day and put them into a bucket with cool water. Remove bottom leaves from the stems and place the Dahlias in an aesthetically complimentary vase. Place the vase in a cool spot and inspect/clean the water daily. The arrangement should last from 3 to 5 days.
Dahlia flowers are available in a rainbow of colours and range in size. From the giant 30cm "dinner plate" blooms to the 7cm lollipop-style pompons. Most garden varieties will grow from 4 to 5 feet tall. As a cut flower the stems are bunched into 5 stem groups and are approximately 30cm high. Colours range from lolly pop pinks, dark magenta, vibrant reds, yellow and watermelon tones to soft pastel blush tones. Some varieties you really wonder how mother nature (or the grower) has created such a beautiful and detailed bloom! Every colour and variety needs to be appreciated.
We absolutely love creating bouquets with locally grown Dahlia flowers and source them in soft pink, hot pink, magenta, red and blush tones. But it is worth noting that they are a fragile flower which only tends to last for approximately 3 to 5 days (so not a long lasting bloom) but if you love Dahlias, you will appreciate the varieties we source from our premium Dahlia flower grower. They look amazing mixed with other complementary blooms or just on mass.
You must pop into our store to be able to appreciate their beauty, size and scent!
Kate x